Byron E. Howlett Sr., former head of Richmond Heritage Federal Credit Union, dies at 73
1/17/2020, 6 a.m.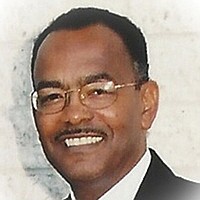 Byron E. Howlett Sr. led the modernization of the Richmond Heritage Federal Credit Union during his 19 years as the second president and chief executive officer of the oldest African-American financial institution still in operation in Richmond.
His leadership role at the credit union, which was launched in 1936 during the Great Depression by 10 educators as a self-help nonprofit for Richmond's public schoolteachers and professors at Virginia Union University, is being remembered following his death on Thursday, Jan. 9, 2020. He was 73.
Family and friends celebrated Mr. Howlett's life during a funeral Wednesday, Jan. 15, at Mimms Funeral in South Side. He was buried in Maury Cemetery.
After the retirement of the credit union's first executive, Wilbert F. "Skip Foster, Mr. Howlett took over leadership in 1992 when the financial institution was called the Richmond Teachers Federal Credit Union and operated in Jackson Ward.
"He was a servant-leader who was the epitome of leadership and professionalism," said Randy Cooper, the credit union's current president and chief executive officer. "He had a humble and hands-on approach to management. He was the first to arrive and the last to leave."
During Mr. Howlett's tenure, the credit union moved from its longtime home on Clay Street to temporary quarters in Willow Lawn before relocating to its current headquarters at 50 W. Commerce Road in Manchester under its new name. Mr. Howlett also led the effort to open the credit union's doors to more people by gaining authority from federal regulators to open membership to people living, working or worshipping in the Blackwell, Manchester and Swansboro neighborhoods.
Mr. Howlett also led the development of other tools for members, including online banking, safe deposit boxes, debit and credit cards and access to automated teller machines, both at Commerce Road and through a credit union cooperative.
The credit union currently lists about 2,300 members and $6.8 million in assets.
A Richmond native, Mr. Howlett grew up in the Blackwell neighborhood. He was one of four children from a single-parent household, and he once recalled that "back then, the neighborhood helped raise the children."
Survivors include his wife, Hazel, four sons and two daughters, 10 grandchildren and eight great-grandchildren.