'Integrity is what you do when no one is watching,' actress tells VUU grads
Thomas Kidd | 5/19/2018, 3:31 p.m.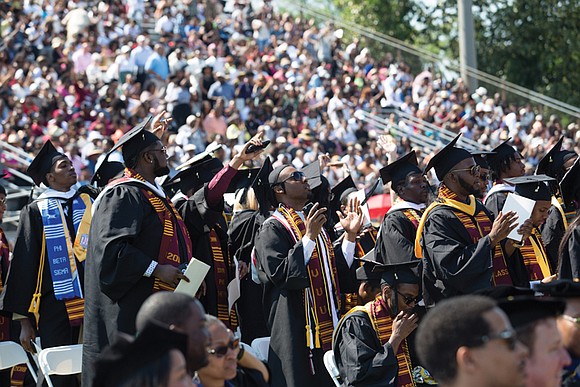 By Thomas Kidd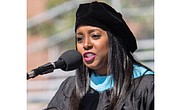 Virginia Union University graduates were encouraged to focus on a life of substance, and not one of superficiality, during the school's 119th commencement last Saturday at Hovey Field on the campus.
Actress Keshia Knight Pulliam, best known for her role as Rudy Huxtable on the popular, long-running television sitcom "The Cosby Show," gave a heartfelt talk to the more than 300 graduates and their families and friends in what she acknowledged was her first-ever commencement address.
"This is very special and dear to my heart. I am proud that you would put this trust in me," said the 39-year old Ms. Pulliam, who graduated in 2001 with honors from Spelman College with a bachelor's in sociology and a concentration in film.
She confessed that she had no recollection of who spoke at her graduation but promised that she would make every effort to be relevant, memorable and brief.
"I know you want to 'turn up' and celebrate with family and friends. And I don't know how long this pressed hair is going to hold up," she joked with the audience, many of whom had begun seeking shade under the bleachers at the outdoor stadium to escape the hot morning sun.
Ms. Pulliam urged graduates to avoid social media culture, which she feels promotes an unrealistic representation of success.
"Everyone wants to show their highlight reel, but no one wants to show the work," she told the graduates. "Embrace adversity. Lean into it, because you only grow when you are not in your comfort zone."
Ms. Pulliam, an NAACP Image Award winner whose recent acting projects include "Madea Goes to Jail" and "Tyler Perry's House of Payne," went on to identify the personal qualities she said she has adopted to further her development and success. Among them: To be authentic, to practice humility and to operate with integrity.
"Integrity is what you do when no one is watching," she said.
The Atlanta resident did not talk about her personal life – she was divorced recently from former NFL player Ed Hartwell and awarded custody of their year-old daughter. Nor did she talk about her TV dad and mentor, Bill Cosby, 80, who was convicted April 26 in a Pennsylvania court of drugging and raping Andrea Constand, then a 30-year-old director of operations for the women's basketball team at Temple University, in 2004.

Ms. Pulliam accompanied Mr. Cosby to court last June during his first trial, which ended in a hung jury. But she did not go to court to support him during the recent retrial, which was considered the first big trial since the #MeToo movement's national spotlight on sexual assault and harassment. Mr. Cosby, who remains free on bond until his sentencing this summer, faces up to 30 years in prison.
Ms. Pulliam, however, praised the #MeToo movement in her talk, along with other advocacy and activist movements including Black Lives Matter. "All lives matter, but as African-Americans, we are excluded from the list."
She concluded her address by driving home the point that real success is not solely measured in dollars and cents.