Looking for a job?
New program for graduating seniors may help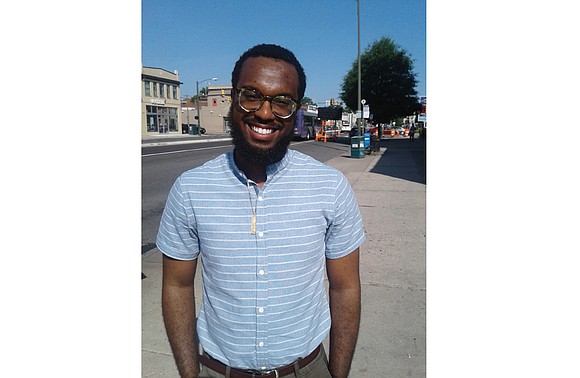 By Jeremy M. Lazarus
A new program is working to steer the area high school seniors toward health care careers.
Called Pathways to Health Care Workforce, the program is offering an option for students to secure entry-level positions in hospital operations at Virginia Commonwealth University and possibly other facilities.
VCU has teamed with City Hall, Richmond Public Schools and the regional Resource Workforce Center on the effort, which provides VCU a way to beef up the pool of applicants for jobs that have become harder to fill as unemployment continues to fall.

Other public and private entities that are taking part: J. Sargeant Reynolds Community College, Richmond Redevelopment and Housing Authority, Church Hill Activities & Tutoring and the RVA Future Centers.
Harrison L. Hayes, 27, is in charge of the program.
"We are starting with Richmond high schools," said Mr. Hayes, who kicked off his student recruiting at Huguenot High School last week and had sessions this week at George Wythe and John Marshall high schools.
He also is scheduled to recruit at Thomas Jefferson High at month's end and has set up sessions at Matoaca High in Chesterfield County and Highland Springs High in Henrico County.
Students also can apply on the program's website, PHCw.vcu.edu, he said.

Mr. Hayes said his focus initially "is on seniors who are graduating but have no plans to attend college and are not entering the military," but will be job hunting.
The goal is to recruit 400 students. While seniors are the target audience, he said, sophomores and juniors also may apply and obtain information in preparation for when they graduate.
Mr. Hayes said students accepted into Pathways have to attend three, 2½-hour workshops in early July that will focus on preparing students for the workforce. That includes helping them to write résumés, working with them on interview skills and counseling them on managing job requirements.
There also will be opportunities for students to visit the VCU Health System and to shadow current employees to get a better idea of what a particular job entails, said Mr. Hayes, who earned a bachelor's degree at Howard University and a master's in education from VCU.
Mr. Hayes said applications for students who complete the workshops would be submitted to VCU Health System's Human Resources Department in specific areas of interest. Positions may range from administrative assistant and billing office staff member to maintenance mechanic, material management technician and patient access representative.
Those who are hired by VCU would get a job with a good starting salary and benefits, Mr. Hayes said, with possible financial assistance to train for better positions. "People could stay in the starting position. But if they are ambitious, we want to help them get the training they need for a better position," he said.
Mr. Hayes said there are no guarantees that any of the students accepted for the workshops will be hired. Other jobs would require students to take courses for certification before starting, including positions for certified nursing assistant and medical billing coder. The program would provide financial support to those seeking such certification, he said.

Mr. Hayes said the workshops also could help students seek other employment if they are not hired by VCU.
"My hope is that everyone could get hired, but I'm not able to make any promises," he said.
Details: Mr. Hayes, (804) 823-6345 or hayeshl3@vcu.edu.