To the future
11/8/2018, 6 a.m.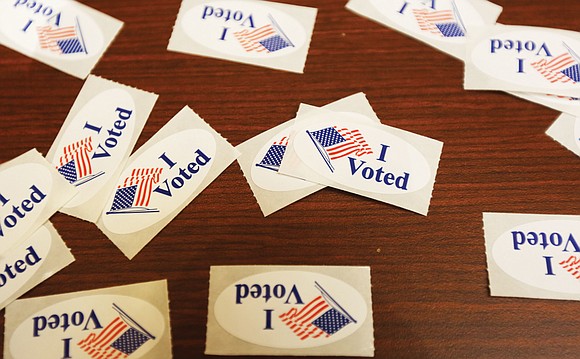 We are buoyed and encouraged by Tuesday night's election results — both in Virginia and across the nation.
In Virginia, voters re-elected Democrat Tim Kaine to the U.S. Senate and elected Democrats to seven of the state's 11 seats in the U.S. House of Representatives. That includes returning Richmond's representative, 4th District Congressman A. Donald McEachin, to the House for another two-year term, and electing newcomer Abigail Spanberger in the 7th District, representing parts of Henrico and Chesterfield counties.
Ms. Spanberger, a former CIA officer, ran a formidable campaign, upsetting GOP Rep. Dave Brat, a Tea Party conservative.
It is the first time since the 111th Congress in 2009-2011 that Democrats have held the majority of Virginia's congressional seats.
The election results show that Virginians have a more progressive and inclusive vision for our state and our nation than the Trump factions that now control Washington. That also rings true nationally, with voters across the country repudiating the regressive policies of President Trump and his GOP followers by flipping the House of Representatives from GOP control to a Democratic majority beginning in January.
With Tuesday's election, we expect Sen. Kaine, Rep. McEachin and Rep.-elect Spanberger to work with others to live up to their campaign promises and seek to improve and expand health care access for all Americans; to protect Social Security, voting rights and women's health care rights; to strengthen gun laws and background checks for gun purchases; to improve funding and equity in public education; to expand job creation and employment opportunities through internships and training in the trades; to help families by raising the federal minimum wage; to protect the environment through commonsense and future-minded regulations; to stop wasting precious federal dollars on building a ridiculous border wall and deploying troops to the U.S.-Mexico border and to treat immigrant families and their children with dignity and respect; and to bring greater opportunity and resources to rural and urban communities through greater broadband access, infrastructure improvements and anti-poverty initiatives.
The list is long, but is by no means exhaustive. There are even more urgent and critical issues that we expect our newly elected representatives to address.
We expect Sen. Kaine, Rep. McEachin and Rep.-elect Spanberger to work with other Democratic members of Congress and right-thinking Republicans to protect our democracy and our elections by getting to the bottom of the Russian hacking scandal. 
While Special Counsel Robert S. Mueller continues his probe into President Trump's connection to Russia's interference in the 2016 presidential election, Congress and its various committees also must demand more transparency from President Trump and his administration.
They also must handle the ramifications of President Trump's firing of U.S. Attorney General Jeff Sessions and any subsequent attempt to thwart Mr. Mueller's investigation.
Already we have seen that Republicans who were in charge of many of the House committees quashed efforts to subpoena important documents and blocked testimony from federal agencies, including information about President Trump's tax returns and his family business dealings.
Our democracy should not be bought and sold by people seeking or holding office. If it takes bruising a few egos and feelings to protect our democracy, then the Democratic-led House that takes office in January should throw caution to the wind and bring it on.
As Georgia gubernatorial candidate Stacey Abrams said Tuesday night, "Democracy only works when we work for it, when we fight for it, when we demand it."
Virginia voters have sent this delegation to Washington. Now it is up to us, the voters, to demand that they serve and protect what is important to this nation now and in the future.