Dems take the House
Voter enthusiasm, coupled with rejection of Trump policies, results in Democrats regaining the U.S. House of Representatives in midterm election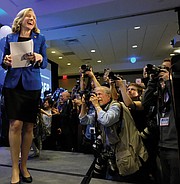 WASHINGTON
Voters brought an end to one-party Republican rule in the nation's capital in Tuesday's election.
Propelled by a surge of rank-and-file enthusiasm and widespread urban and suburban dissatisfaction with President Trump, Democrats took control of the House of Representatives for the first time since 2011.
Democrats picked up at least 27 House seats, including three in Virginia, to boost their total to a majority of 221 seats of the 435 in the lower chamber. While some election results were still unavailable Wednesday, they appear to be in line with a typical mid-term election and below the results of 2006 when Democrats gained 31 House seats in delivering what then-President George W. Bush described as a "thumping."
"Thanks to you, we owned the ground," House Minority Leader Nancy Pelosi — likely the next House speaker — said Tuesday night. "Thanks to you, tomorrow will be a new day in America."
Women were among the big winners in the House, with 33 newcomers gaining seats — including the three Virginia winners — and 65 incumbents winning re-election. Among the new faces in Congress will be two Muslim women — Rashida Tlaib of Michigan and Ilhan Omar of Minnesota — and two Native American women — Deb Haaland of New Mexico and Sharice Davids of Kansas — who will be the first from their communities to serve in Congress.
There were other major wins for diversity.
Progressive insurgent Alexandria Ocasio-Cortez, 29, who overtook goliath Rep. Joe Crowley in the Democratic primary for New York's 14th Congressional District in a stunning upset, became the youngest woman elected to Congress in the nation's history.
Massachusetts sent the state's first black woman to Congress in Democrat Ayanna Pressley and Texas elected their first two Latinas to Congress, sending Democrats Veronica Escobar of El Paso and Sylvia Garcia of Houston to the House.
However, the congressional district-by-district wins for Democrats did not translate into statewide victories in U.S. Senate races.

With Senate victories in Tennessee, Indiana, North Dakota, Missouri, Florida and Texas, President Trump's Republican Party appears to have extended its majority in the 100-member U.S. Senate from 51 seats to at least 54 seats. It will keep the GOP in control of the confirmation of judges and members of the Trump cabinet.
The GOP capitalized on a lopsided battlefield that forced Democrats to defend 10 seats in states President Trump won in 2016.
Tuesday's election results allowed both sides to claim victory in an election that centered on the policies of President Trump, who told supporters at a rally last month in Mississippi to "pretend I'm on the ballot."

As the results poured in, the president crowed about a "big win" after two years in which he has monopolized the media, polarized the electorate and dominated American political life like no president since Franklin D. Roosevelt.
As the last ballots trickled in, it became clear that America's decision wasn't so much mixed as divided. One commentator said the election was less of "a blue wave" of Democrats and more of a "purple puddle." The red, rural parts of the country voted heavily Republican, while the blue, urban parts voted heavily Democrat. And the purple, suburban areas leaned left — far enough to flip dozens of GOP House districts, but not far enough to save moderate Democrats in conservative states, such as Sen. Claire McCaskill of Missouri and Sen. Joe Donnelly of Indiana.
For Democrats, winning the Senate was always a long shot. Still, the party was depending on Sens. McCaskill and Donnelly and Bill Nelson of Florida to hold their seats, and hoping that in Tennessee, Phil Bredesen, a popular and moderate former governor, could eke out a win against GOP Rep. Marsha Blackburn.
But Rep. Blackburn won the Tennessee seat, and Texas Sen. Ted Cruz held off Democrat Beto O'Rourke, who became a folk hero for liberals who thought he might defy gravity and defeat the incumbent.
Democrats faced serious hurdles this cycle. Republicans largely oversaw the last round of redistricting, redrawing the congressional map in ways that force Democrats to win the national popular vote by 7 or more percentage points just to secure a bare House majority.
Democrats were defending 26 Senate seats to the GOP's nine — by far the most difficult map either party has faced in decades. Republicans in some red states passed a set of restrictive voting laws that disproportionately handicapped Democratic constituencies. Finally, the economy is humming and unemployment has fallen to a 48-year low — factors that traditionally boost the party in power.
Democrats performed well in GOP-held districts that voted for Hillary Clinton for president in 2016.
Republican Rep. Carlos Curbelo of Miami, a moderate who co-founded the House climate change caucus, lost to his Democratic challenger, as did Northern Virginia's Barbara Comstock, New Jersey's Leonard Lance, Dallas' Pete Sessions, Minnesota's Erik Paulsen and Colorado's Mike Coffman. 
And strong showings in the suburbs around Richmond and Oklahoma City led to defeats of GOP House incumbents Dave Brat and Steve Russell, respectively, suggesting that Democrats could continue to pick off districts that voted for President Trump and pad their House majority.
The power change means that when the new Congress convenes in January, Democrats can serve as a check on the power of President Trump and his minions, including GOP efforts to roll back government-supported health insurance and some environmental protections.
That could initiate bruising legal battles over congressional subpoenas, a stack of demands for documents and testimony from federal agencies — including President Trump's tax returns — and withering investigations into facets of President Trump's personal life, his family business and his administration.
Democratic Rep. Elijah E. Cummings of Maryland is poised to take control of the powerful House Committee on Oversight and Government Reform. The committee already has compiled a list of 64 subpoenas and inquiries looking into concerns they had with Trump administration activities but were denied by the committee's Republican leadership. The Democrats said they intend to revisit the requests.
"President Trump has been eroding the foundations of our democracy," Rep. Cummings said in a statement on Wednesday. "He has been degrading the vision of our Founding Fathers — from attacking the right to vote to undermining the freedom of the press.
"Yesterday, the American people voted to change that. They voted for transparency and accountability. They voted to make sure our government works effectively and efficiently for the American people. And they voted to bring integrity back to government," he continued.
"As part of that mandate, I plan to shine a light on waste, fraud and abuse in the Trump administration. I want to probe senior administration officials across the government who have abused their positions of power and wasted taxpayer money, as well as President Trump's decisions to act in his own financial self-interest rather than the best interests of the American people."