Newcomer Abigail Spanberger claims narrow win over GOP incumbent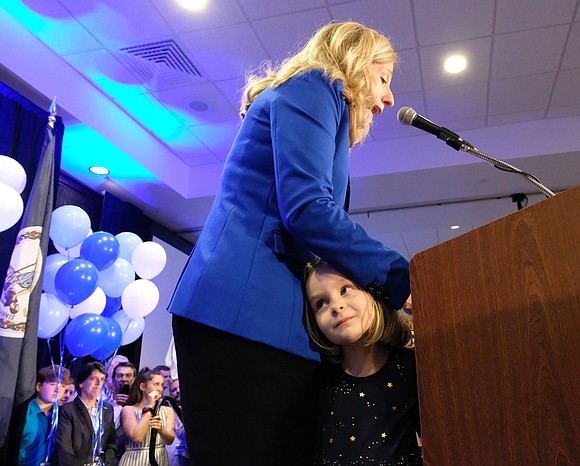 Democratic newcomer Abigail Spanberger of Henrico defied conventional wisdom and upset U.S. Rep. Dave Brat to win Virginia's 7th Congressional District seat in her first run for public office.
Her victory came on a night when two other Democratic women upset Republican incumbents in Hampton Roads and Northern Virginia, ensuring Virginia would send seven Democrats to the House of Representatives in January.
Currently, the state's 11-member House delegation includes seven Republicans and four Democrats.

Ms. Spanberger, a 39-year-old former CIA officer, personified the suburban women outraged at the divisive and destructive approach of President Trump. She edged out Rep. Brat, a 54-year-old economist, by piling up a collective 30,000-vote lead in the two biggest jurisdictions in the district, Henrico and Chesterfield counties.
Rep. Brat handily won the eight more rural and less populous counties in the 7th District that stretches west from Richmond to Culpeper County and includes Goochland, Powhatan and Amelia counties, but he could not overcome Ms. Spanberger's lead in the Richmond suburbs that are no longer reliably Republican.
She won Henrico County by 20,000 votes. And in Chesterfield County, which reported election results late because of voting problems at two precincts, Ms. Spanberger won by 10,000 votes.
By 11:30 p.m. Tuesday, Rep. Brat was still refusing to concede, while his Democratic challenger was shedding joyful tears and claiming victory to the roars of approval from elated supporters at an Election Night party at a Henrico County hotel.

Ms. Spanberger, who refused campaign contributions from corporate political action committees, promised to represent everyone in the district, even "those who are disappointed" by the results.
She also pledged to "work across the aisle when possible and to hold my ground when necessary."
Unofficial results that the state Department of Elections released Wednesday show that Ms. Spanberger won 175,817 votes, or 50.32 percent, to 169,226 votes for Rep. Brat, or 48.43 percent.
Rep. Brat ended up conceding Wednesday afternoon after her apparent victory margin of 6,591 votes became too much. It would amount to about 2 percent of the total, too much for a recount. State law allows a recount only when the margin is 1 percent or less.
Ms. Spanberger focused on the positive and kept a steely focus on issues of "importance to the people in the district" during the campaign. She said in her victory speech Tuesday night that her campaign gave potential constituents "something to vote for."
She spent much of her campaign portraying herself as the candidate who would work to block efforts to undermine health care and remove protections for pre-existing conditions. She pointed out that Rep. Brat had voted seven times to repeal the federal Affordable Care Act and the protections that law gives to people whose past health problems had blocked them from getting health insurance.
Rep. Brat, who had gone to Congress in 2017 as a conservative deficit hawk after defeating fast-rising Republican star GOP Rep. Eric Cantor, also was vulnerable for voting to cut taxes for the wealthy and adding nearly $2 trillion to an already swollen deficit.