Abigail Spanberger, a political newcomer, is part of 'blue wave'
Reginald Stuart | 10/25/2018, 6 a.m.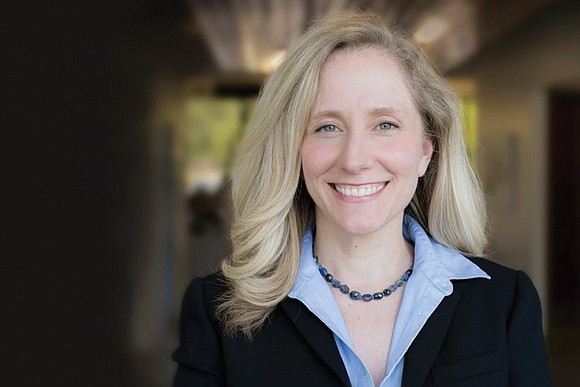 Abigail Spanberger had some tough personal choices to make this spring.
Telling her three daughters that she had once worked for the CIA was one — a tough one, she said.
Getting it out publicly ahead of people who wanted to cast the job as a negative was something she had to do in getting her family's blessing for seeking another job — being a member of the U.S. House of Representatives.
For sure, bits and pieces of Ms. Spanberger's history have leaked out since the 39-year-old Democrat announced her decision to run for Congress against incumbent GOP Rep. Dave Brat, an economics professor who left academia in 2014 after unseating House Majority Leader Eric Cantor in a shocking GOP primary.
Ms. Spanberger, who attended public schools in Henrico County and now lives in Glen Allen, went on to earn a bachelor's from the University of Virginia and an MBA from Purdue University. Afterward, she became a federal employee, working first as a U.S. Postal Service inspector investigating money laundering and drug trafficking, then going to work for the CIA on assignments under Presidents Bush and Obama.
With several years of intelligence work behind her, Ms. Spanberger said she's ready to give back to the country that has given her so much. Casting herself as a moderate liberal, she is considered by political analysts to be among the "blue wave" trying to halt President Trump's relentless campaign to reverse decades of American effort at home and abroad.
Political pollsters say the contest is a toss-up, with voters seeming endlessly split as the contest races toward Election Day on Nov. 6.
Ms. Spanberger, one of two former CIA employees running for Congress this fall (the other is a woman Democrat in Michigan), has aggressively campaigned around the largely middle class 7th District, one that is a rich mix of Richmond suburbs with portions of Henrico and Chesterfield counties and stretching north to Spotsylvania and west to Louisa, Orange and Culpeper counties.
In making her debut for political office, Ms. Spanberger has refused to take money from corporate political PACs, yet has raised more than $3 million for her campaign and gotten influential endorsements from former President Obama and Vice President Joe Biden, among others.
She also has been endorsed by a number of national issue groups, including Emily's List, the Brady Campaign to Prevent Gun Violence and CASA in Action.
In the single face-to-face debate between Ms. Spanberger and Rep. Brat, Ms. Spanberger made it clear that she is not running for office to emulate House Minority Leader Nancy Pelosi of California, although they share many similar views on social issues.
"This contest is interesting because you have a first-time female candidate, it's in a Republican district that is increasingly competitive and it's the type of suburban district Democrats are trying to flip," said Emory University political scientist Dr. Andra Gillespie.
She notes the district is approximately 17 percent African-American and has an annual median family income of more than $60,000.