Rep. Dave Brat facing close re-election bid
Reginald Stuart | 10/25/2018, 6 a.m.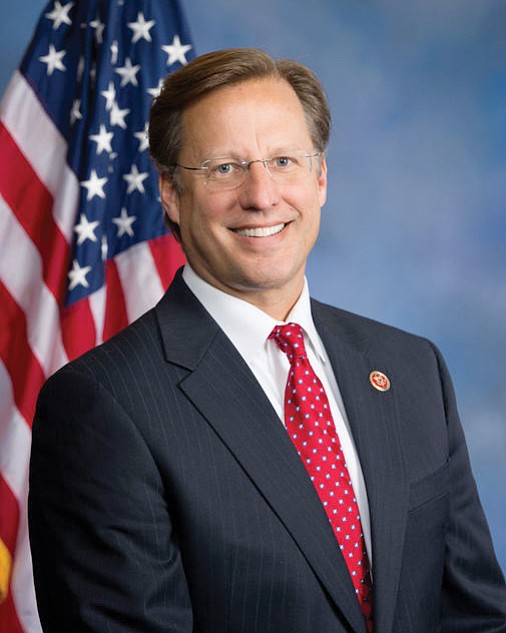 When longtime economics professor-turned-political-rookie Dave Brat defeated House Republican Leader Eric Cantor in Mr. Cantor's 2014 primary contest for re-election, the shocking upset made heads spin around the political universe.
Rep. Brat, 54, who left his post at Randolph-Macon College to focus on his new political role, was reassured of voter confidence in 2016, when he won his re-election bid by 15 points more than his Democratic opponent.
Today, the political ground in Virginia's 7th Congressional District is shaking again, most of it rooted in President Trump's rhetoric and actions that is unsettling voters as the election nears.
Political operatives in all corners said Rep. Brat's re-election contest against newcomer Democrat Abigail Spanberger is a toss-up with less than two weeks to go before Election Day on Nov. 6. No public or private polls show either contestant with a clear lead, despite Rep. Brat investing more than $1 million dollars into his re-election campaign and reporting approximately $1 million more to spend by election time.
Rep. Brat has the firm backing of President Trump and other national Republican political leaders. Still, observers said, some voters in the historically middle-class Republican district have mixed feelings about Rep. Brat and his future in office. Some voters are concerned about his close links to President Trump, as the president repeatedly spews offensive language about women, foreigners and other issues.
"You do have to make sure you run according to the culture of that district," said Emory University political scientist Dr. Andra Gillespie, a Richmond area native familiar with Virginia politics. It's the unsettled stomach in the 7th District that has caused political analysts to cast the contest as deadlocked at this point, she said.
Rep. Brat, who has championed himself as an asset to a strong Republican presence in Congress, touts his standing as the only member of the House of Representatives with a Ph.D. That is a background Rep. Brat says is quite helpful as President Trump and company go about trying to boost military spending and dismantle much of the federal social role in helping America run, cut taxes and boost the federal deficit, all in short order.
Like President Trump, Rep. Brat sees the federal government playing a much smaller role in a range of regulations, from clean air and water standards to gun control and women's reproductive health. As for the economy, Rep. Brat has long advocated free market actions as a solution to many of society's social ills.
He made an articulate pitch for his re-election earlier this month at a political debate with Ms. Spanberger that reportedly drew approximately 400 people to a community college campus in Culpeper.
In the testy debate, Rep. Brat illuminated several examples of his stance as a Republican with conservative social views. Supported by the National Rife Association, he challenged gun control advocates, asserting the best way to prevent school shootings is to place armed school resource officers in schools and improve access to mental health resources.
Rep. Brat also took issue with proponents of expanding federal heath care programs. He told the audience, as he has before, that he favors abolishing the Affordable Care Act and letting private health care providers compete more freely. That would force prices down, he said.