Local innovator selected for Culture of Health Leadership program
By Samantha Willis | 11/8/2018, 6 a.m.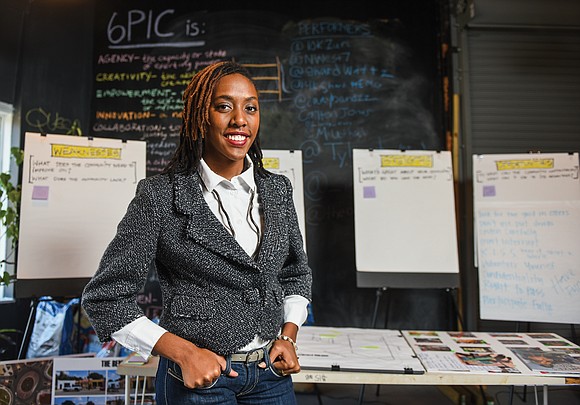 Six Points Innovation Center in Highland Park builds young people into urban leaders and empowers them to build the city, explained Jacqulyn "Jackie" Washington, site director for the center.
"We do this in several ways, like exposing the teens to different types of careers in city planning or design," said Ms. Washington, 24. "We help them to see how decisions are made at City Hall and show them how they can engage as citizens. We encourage creative expression through art. … It's much more than an after-school program."
Ms. Washington has been selected to participate in the Robert Wood Johnson Foundation's Culture of Health Leadership program, an initiative that provides training and support to leaders nationwide to help make their communities more healthy and equitable.
Ms. Washington will receive a stipend of up to $20,000 annually for three years to focus on mental and emotional health outcomes in African-American and Latino communities. 
"In this context, the word 'health' goes beyond diet and exercise," she said. "What my work will address is healing emotional and mental trauma, especially in the black community."
Through the Culture of Health Leadership program, Ms. Washington, who also is community engagement liaison for Storefront for Community Design at 6PIC, will meet seasoned community leaders working to improve health outcomes and wellness in their respective areas of the country. The opportunity for mentorship and skill sharing is an exciting one, she said. 
"Whatever I learn, I will come back and apply at 6PIC, Storefront and in the city of Richmond."
Ms. Washington, who has a master's in social work from Virginia Commonwealth University, believes the new skills she will learn as a Culture of Health Leader will equip her to support the community's healing from historic and contemporary racial trauma and economic disparities. 
The nonprofit Robert Woods Johnson Foundation, which was started in 1972, focuses on improving the health and wellbeing of Americans and awards grants to individual and groups working to create healthier communities.
In 2017, Richmond was one of eight communities that won the foundation's Culture of Health $25,000 prize. Community groups' efforts to boost access to healthy food access and poverty reduction efforts by the city's Office of Community Wealth Building were cited as reasons Richmond was selected for the honor. 
Ms. Washington, said she plans to work with grassroots groups, such as Community Unity in Action, to streamline and enhance community healing across the city. 
"If anything, I'm going to try and connect all the incredible healing work that's already happening here and elevate those voices," Ms. Washington said.