Honoring the heroes
11/15/2018, 6 a.m.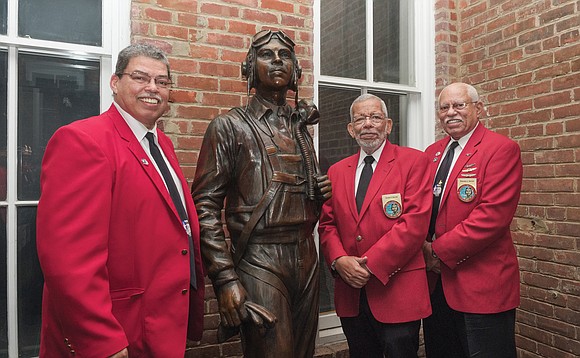 From left, brothers Richard, David and Howard Baugh stand with the life-size bronze statue of their late father, Lt. Col. Howard Baugh of Petersburg, a decorated fighter pilot who was among the noted Tuskegee Airmen flying combat missions during World War II.
The statue was unveiled during a ceremony last Saturday at the Black History Museum and Cultural Center of Virginia in Jackson Ward to commemorate the airmen whose military contributions aided the nation overseas and helped battle racism at home.
It is a gift from the Howard Baugh Chapter of Tuskegee Airmen Inc., one of 56 chapters nationally dedicated to preserving the legacy of the airmen and inspiring youths. The chapter raised more than $100,000 for the statue, which was sculpted by artist Antonio Tobias "Toby" Mendez of Maryland. Mr. Mendez also did the statue of noted Richmond businesswoman and icon Maggie L. Walker at Broad and Adams streets.
Speakers at Saturday's ceremony included 4th District Congressman A. Donald McEachin, Monroe Harris, chairman of the museum's board of directors, and Howard L. Baugh, the late lieutenant colonel's oldest son and president of the Tuskegee Airmen chapter.
An exhibit, "Fighting for the Right to Fight: African-American Experiences in WWII," is on view through Nov. 30 at the Black History Museum and Cultural Center of Virginia, 122 W. Leigh St.