Richmond native and noted musician Melvin 'Wah Wah Watson' Ragin dies at 67
11/15/2018, 6 a.m.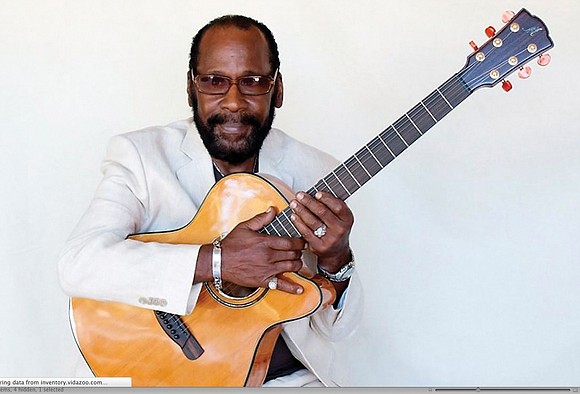 Melvin Marcellus Ragin learned to strum a guitar in Richmond and went on to become a legendary studio musician whose unique sound can be heard in more than 150 recordings that topped the charts at No. 1.
Known in the music business as "Wah Wah Watson," he toured and/or recorded with dozens of top artists ranging from The Temptations and Diana Ross and The Supremes to Marvin Gaye, Michael Jackson, Herbie Hancock, Alicia Keys and Quincy Jones.

In a career that spanned more than 50 years, Mr. Ragin contributed his signature riffs, licks and chops to literally hundreds of singles and albums that reportedly have sold an estimated 100 million copies around the world.
Along the way, he won credit for helping shape the Motown sound and for inspiring up-and-coming musicians with his takes on funk, soul and R&B.
Mr. Ragin's creativity is being remembered following his death Wednesday, Oct. 24, 2018, in Santa Monica, Calif., where he made his home. He was 67.
His wife of 33 years, Itsuko Aono, announced his death, but did not elaborate on the cause. "Wherever he is, he's groovin'," she told a reporter.
Mr. Ragin's nickname came from his work with a wah-wah pedal that alters a guitar's notes and seems to make a "wah" sound.
New York Times writer Jon Pareles described the musical magic Mr. Ragin created: "Working the pedal with prodigious and playful subtlety, he used it on many hit songs — for crunching syncopations and floating, curling chords in The Temptations' 'Papa Was a Rolling Stone;' for slinky counter melodies in Marvin Gaye's 'Let's Get It On;' for little bluesy sighs and rhythmic nudges in Gloria Gaynor's 'I Will Survive;' and for airborne echoing interjections in Maxwell's 'Ascension (Don't Ever Wonder).' "
"He was a grand guy," said his brother, Robert M. "Radar" Ragin, a retired city police officer, who has vivid memories of playing music with his brother on the porch of their home in Church Hill.

One of five children of a Richmond minister and a beautician, Mr. Ragin once told an interviewer that he got his start when his mother bought him a $15 guitar "with a promise from me that I would learn to play it." He did.
As a teen, Mr. Ragin played with a group called The Montclairs. Radar Ragin said his brother left Richmond for Detroit with the encouragement of a touring Motown group that heard him play at the Sahara Club in North Side.
The ambitious 18-year-old first hooked up in 1968 with Bobby Taylor & The Vancouvers, a soul band from Canada that had signed with Motown Records.
After hearing another guitarist use the wah-wah pedal, he was hooked.

Mr. Ragin bought his own pedal and built his guitar style around it, creating a signature sound and a nickname that stuck.

By 1970, he had become part of the Motown studio band, going on to record and tour with top groups and performers, including Smokey Robinson, The Jackson 5, The Four Tops, Martha Reeves and The Vandellas, Gladys Knight and The Pips and a host of others.