Stan Lee, Marvel Comics writer and creator of the 'Black Panther,' dies at 95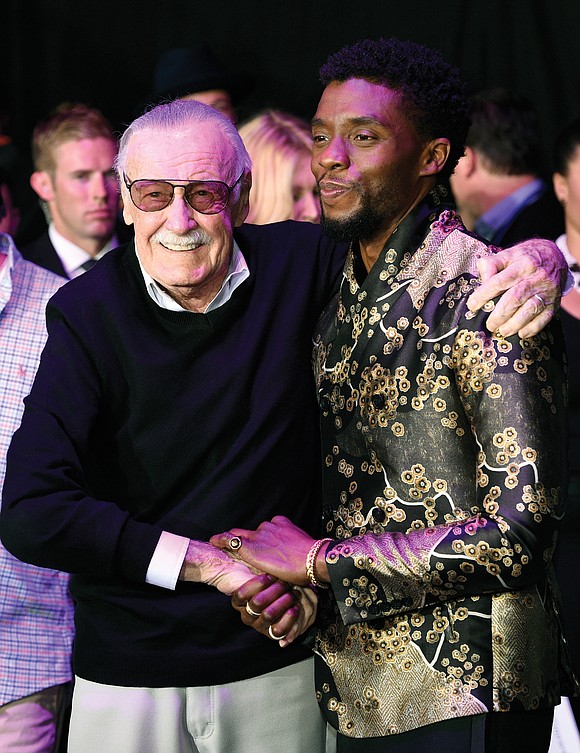 LOS ANGELES
Stan Lee, the creative dynamo who revolutionized the comic book and made billions for Hollywood by introducing human frailties in Marvel superheroes such as Spider-Man, the Fantastic Four and the Incredible Hulk, died Monday, Nov. 12, 2018.
He was 95.
Mr. Lee was declared dead at Cedars-Sinai Medical Center in Los Angeles, according to Kirk Schenck, an attorney for Mr. Lee's daughter, J.C. Lee.
As news of Mr. Lee's death quickly spread, tributes began pouring in on social media, including from actors Angela Bassett, Letitia Wright and Winston Duke who had key roles in this year's blockbuster film, "Black Panther," that was based on Mr. Lee's comic book hero from the fictional African nation of Wakanda.
"You gave us characters that continue to stand the test of time and evolve with our consciousness. You taught us that there are no limits to our future as long as we have access to our imagination. Rest in power!" Mr. Duke, who played M'Baku in the film, wrote on Twitter.
As the top writer at Marvel Comics and later as its publisher, Mr. Lee was widely considered the architect of the contemporary comic book. He revived the industry in the 1960s by offering the costumes and action craved by younger readers while insisting on sophisticated plots, college-level dialogue, satire, science fiction, even philosophy.
Millions responded to the unlikely mix of realistic fantasy, and many of his characters, including Spider-Man, the Hulk and X-Men, went on to become stars of major films. He won the National Medal of Arts in 2008.
In addition to "Black Panther," other recent projects Mr. Lee helped make possible range from the films "Avengers: Infinity War" and "Guardians of the Galaxy" to such TV series as "Agents of S.H.I.E.L.D" and "Daredevil." Mr. Lee was recognizable to his fans, having had cameos in many Marvel films and TV projects, often delivering his trademark motto, "Excelsior!"
"Onward and upward to greater glory! Excelsior! Good man, Excelsior!" Ms. Bassett posted on Twitter.
Mr. Lee considered the comic book medium an art form and he was prolific. By some accounts, he came up with a new comic book every day for 10 years.
"I wrote so many I don't even know. I wrote either hundreds or thousands of them," he told The Associated Press in 2006.
He hit his stride in the 1960s, when he brought the Fantastic Four, the Hulk, Spider-Man, Iron Man and numerous others to life.
His heroes, meanwhile, were a far cry from virtuous do-gooders such as rival DC Comics' Superman.
The Fantastic Four fought with each other. The Hulk was marked by self-loathing. Daredevil was blind and Iron Man had a weak heart.
"The beauty of Stan Lee's characters is that they were characters first and superheroes next," Jeff Kline, executive producer of the "Men in Black" animated television series, told The Blade of Toledo, Ohio, in 1998.
Some of Mr. Lee's creations became symbols of social change — the inner turmoil of Spider-Man represented 1960s America, for example, while the Black Panther and the Savage She-Hulk mirrored the travails of minorities and women.
"I think of them as fairy tales for grown-ups," he told The AP in 2006. "We all grew up with giants and ogres and witches. Well, you get a little bit older and you're too old to read fairy tales. But I don't think you ever outgrow your love for those kind of things, things that are bigger than life and magical and very imaginative."
Mr. Lee scripted most of Marvel's superhero comics himself during the 1960s, including the Avengers and the X-Men, two of the most enduring. In 1972, he became Marvel's publisher and editorial director; four years later, 72 million copies of Spider-Man were sold.
Mr. Lee also published several books, including "The Superhero Women" in 1977 and "How to Draw Comics the Marvel Way" the following year, when he was named publisher of the year by the Periodical and Book Association of America.
Stanley Martin Lieber was born Dec. 28, 1922, in New York. He grew up a fan of "Hardy Boys" books and Errol Flynn movies, and got a job at Timely Comics after graduating from high school.
Within a few months, the editor and art director quit, leaving the 17-year-old Mr. Lee with creative control over the company, which grew and was renamed Atlas Comics and, finally, Marvel. He, too, changed his name, thinking Lee would be used for "silly little comics" and his real name would be reserved for novels.
He moved to Los Angeles in 1981 to head Marvel Productions, an animation studio that was later purchased, along with Marvel Comics, for $50 million by New World Entertainment.
As sales of comics declined, Marvel was forced into bankruptcy proceedings that meant it had to void a lifetime contract prohibiting Mr. Lee from working for anyone else. Mr. Lee later sued Marvel for $10 million, saying the company cheated him out of millions in profits from movies based on his characters.
In 2000, Mr. Lee agreed to write stories for DC Comics, reinventing Superman, Batman, Wonder Woman and other signature characters for Marvel's one-time rival. The dapper, friendly comic book genius continued to work into his 90s on numerous projects, including comics, films and DVDs.
Mr. Lee is survived by his daughter, Joanie, and a younger brother who also worked in comics, Larry Lieber.