Muslim superhero who fought Nazis in comic books making a comeback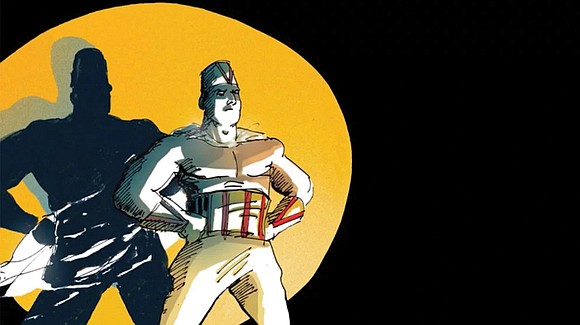 SOMERVILLE, Mass.
In 1944, the world met Kismet, an Algerian superhero who fought against fascists in southern France while wearing a yellow fez.
He punched Nazis, foiled Hitler's plans and came to the aid of civilians in need.
"The conquered people of Europe carry on their ceaseless struggle against the forces of tyranny," reads the introduction to one of his adventures from Elliot Publications. "And fighting by their side, lending the power of his great mind and the force of his mighty fists, is Kismet, Man of Fate."
After four issues, however, Kismet disappeared and was forgotten.
Seven decades later, Kismet is making a comeback in a new graphic novel from author A. David Lewis. The story drops Kismet in Boston as the city heals from the aftermath of 2013's Boston Marathon bombing.
Mr. Lewis said that Kismet deserved a fresh start.
"He was basically abandoned to the public domain," Mr. Lewis told Religion News Service in an interview at the comic store Comicazi, where he was signing books for fans just a few miles north of Boston. "That saddened me because there was this strange nobility about his character that felt anachronistic."
Kismet is a reboot of what appears to be the first identified Muslim superhero character published in English.
Most Muslims in the Golden Age of comics were written as flat, one-dimensional characters, or in sloppy ways that fed into stereotypes and conflated Arabs and Muslims, Mr. Lewis said.
But, he said, Kismet was given some level of dignity.
"And I saw the potential in that," Mr. Lewis said.
Other Muslim superheroes have suffered a similar fate as Kismet. In 2000, D.C. introduced a Turkish character, Janissary, whose last appearance was in 2007. Marvel character Monet St. Croix debuted in 1994 but wasn't identified as a Muslim character until 2011. In 1995, Marvel introduced Syrian superhero Batal and immediately killed him off.
Rebooting Kismet felt like an opportunity to do better.
Mr. Lewis rattled off a list of common tropes about Muslim characters he hoped to avoid with his character: The "noble savage" who is uncorrupted by modern civilization; the mystical Muslim superhero; the docile Muslim woman; the perishable "cannon fodder;" and, more broadly, Muslim characters being carelessly boiled down to a nebulous racial and religious mass.
For Mr. Lewis, writing a Muslim superhero was also an opportunity to address the connection between superhuman ability and cosmology. Do the powers to, say, fly or manipulate fire come from God?
Those questions appeal to Mr. Lewis, who has a doctorate in religion and literature. The author of "American Comics, Literary Theory, and Religion: The Superhero Afterlife," Mr. Lewis has spent years grappling with the connection between theology and comics.
He points to the Quranic story of the prophet Yusuf, which parallels the Old Testament's Joseph. When Joseph was trapped in the Pharaoh's prison, he despaired, Mr. Lewis said.
"But when Yusuf was trapped, he kept it together because he had faith in God's will," Mr. Lewis said. "That's the sort of strength that I give to Kismet."