Summit shares resources to boost health, food equity
11/21/2018, 6 a.m.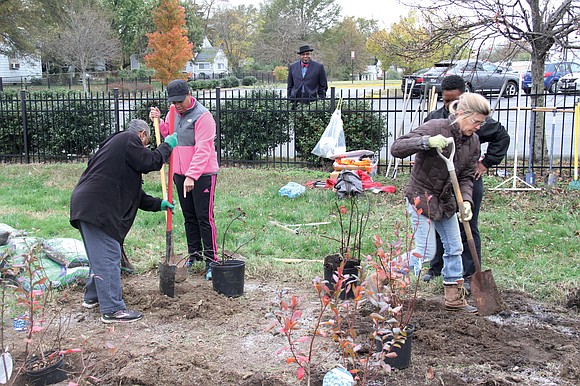 Volunteers planted fruit trees and raspberries and blackberries last week on part of the lawn at Faith Community Baptist Church on Cool Lane in the East End.
Led by members of the Alliance for the Chesapeake Bay, which secured a $10,000 grant for the effort, the cadre of volunteers also will install a grape arbor, an African-style garden, more fruit trees and three dozen raised beds for vegetables and other produce in the coming months.
The project is part of a new church-community effort to expand the production of fresh items in largely African-American areas of the city, most notably in low-income areas of Church Hill.
The effort also was the focus of a two-day summit, "Faith, Food and Farming," held last Friday and Saturday at Virginia Union University on increasing health and food equity by increasing the production of fresh items.
Led by Dr. Patricia A. Gould-Champ, founding pastor of Faith Community Baptist and an associate professor of practical theology at VUU's School of Theology, the forum brought together faith communities, food justice advocates and Virginia farmers. Joining in the event were Union Presbyterian Seminary's Center for Womanist Leadership, Community In Development Corp., the Black Food Security Network and a variety of nonprofits and community groups, including the National Black Farmers Association and the Richmond Food Justice Alliance.
Arthur Burton, founder and director of the Kinfolk Community Empowerment Center who has helped Faith Community Baptist get its garden and orchard started, said a variety of community resources exist, but many of the projects operate in isolation with little knowledge of what others are doing.
For example, he noted VUU's Theology School has been working to promote gardening projects involving churches but was unaware until recently that the university's science department was working with Duron Chavis, who leads the gardening outreach program for Lewis Ginter Botanical Garden and had agreed to grow seedlings in the science department's greenhouse to be replanted in community gardens.
Mr. Burton said a more unified effort is needed that "delivers a consistent message around health equity."
He viewed the summit as a platform for bringing participants together around a shared vision and plan for raising and distributing food. That includes bringing in black farmers and creating a hub for distribution of the vegetables and fruit through local grocery stores, public schools and other community outlets, including churches and other faith operations.
He noted that some churches already have large gardens, such as 31st Street Baptist Church, as do some schools.
"We need to work together," Mr. Burton said. "We don't have to wait for someone else. We just need to organize so we can use the resources we have to make the most impact."