Garden at MLK Middle School is part of new city Food Justice Corridor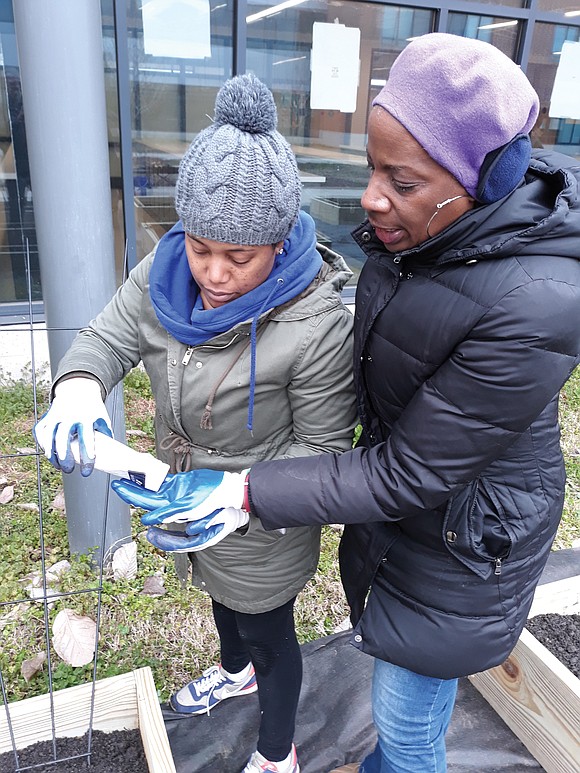 Richmond's new Food Justice Corridor is starting to take root.
On Saturday, nine new raised garden beds were installed in an interior courtyard at Martin Luther King Jr. Middle School, building on fledging steps begun last year.
A cadre of 10 volunteers spent more than four hours assembling the beds, filling them with dirt and planting peas, beans and onions — the initial crops.
Representatives of the Richmond Food Justice Alliance, Fit4Kids, Sun Path Family Farms, Lewis Ginter Botanical Gardens' urban agriculture initiative, Kinfolk Community Empowerment Center, as well as interested individuals pitched in.
Susan Roberson, director of Richmond Public Schools' Nutrition Program, is thrilled.
"Not only will students get to see plants growing and help grow them, but hopefully, they'll end up eating them to complete the farm-to-table cycle," said Ms. Roberson, who was one of the volunteers.

Elizabeth Theriault, the city Health District's chronic disease and food systems specialist, also spent time volunteering. She promotes healthy eating as part of the formula for helping residents reduce health challenges and is a big fan of the effort at the middle school.
The garden is the first to be planted this year and will complement gardens that are being developed in Gilpin Court and at Faith Community Baptist Church, according to Arthur Burton founder and director of the Kinfolk Community Empowerment Center.
More gardens are planned for plots on the campus of Armstrong High School, in Mosby Court and at other locations, possibly other churches, he said.
This is not the only effort to increase local food production. Groups like Shalom Farms and Tricycle Gardens have been involved for some years in generating and moving produce into low-income neighborhoods of Richmond.
The Food Justice Corridor is aimed at getting residents to be equal partners in this effort, said Omari Al-Qadaffi, a community organizer and director of the Richmond Food Justice Alliance who also helped assemble the raised beds and fill them with topsoil.

The corridor is the brainchild of Mr. Burton, who started Kinfolk in a bid to empower and uplift residents of the Mosby Court public housing community.
During the past two years, Mr. Burton has worked with Mr. Al-Qadaffi and others to create a coalition of like-minded groups and individuals willing to use food growing as a way to involve residents in addressing the health and economic inequities that have plagued portions of the city, notably the East End.
"We are seeking to use urban agriculture as a tool of community engagement," Mr. Burton said. "The purpose is to make healthy food more available while also dealing with some of the ills, like violence, that remain challenges to overcome."
He envisions residents using food growing as a tool of education and opportunity so they can become more self-sufficient.
His hope is that eventually enough fresh produce can be grown to meet community needs, with enough left over to sell to stores and people who want healthier, locally grown items. If all goes well, residents also could create specialty canned, pickled and jellied products as a means to improve their family incomes, he said.

"We want people to have more control over their own destiny, and urban agriculture is one way to achieve that," Mr. Burton said.
At this point, 24 government, nonprofit and faith-based organizations are working together to create the corridor under the umbrella Food Justice Alliance, also known as Community Unity in Action, according to the alliance's online information.
"Most of the really exciting work happening in Richmond is the result of strong, trusting partnerships between organizations and communities that are willing to work together and imagine a new way forward together," Mr. Burton said.

"The Food Justice Corridor is exactly this kind of partnership, with organizations and individuals working as partners to address food access, build community, reduce violence, inspire youths and so much more."