Council committee blocks entry of medical transport company into Richmond market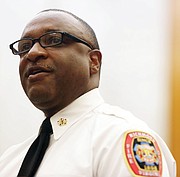 A City Council committee has rebuffed Mayor Levar M. Stoney's attempt to end the Richmond Ambulance Authority's 28-year monopoly on emergency and non-emergency medical transports.
By a 3-0 vote, the council's Public Safety Committee led by 8th District Councilwoman Reva M. Trammell voted to ask the full council to strike a Stoney-introduced ordinance opening the door to competition to RAA on non-emergency service.
The mayor had recommended a permit for an Atlanta-based company, Western-Star Ambulance Authority Inc., which has established a presence in Henrico County for its operating arm, Metro Health EMS.
The bottom line concern among the council committee: That RAA stood to lose a major chunk of the money it earns from non-emergency transport service that now goes to support the far more expensive emergency services. That formula helps ease the pressure on City Council to provide subsidies to RAA.
The committee also found that city officials, including Fire Chief Melvin Carter, failed to note that Metro Health's chief operating officer, B. Lamont Doyle, is barred from doing business with the federal government because of a 2003 conviction on six counts of Medicaid fraud.
The issue of allowing other ambulance companies — other than the longtime Richmond Volunteer Rescue Squad — to operate in the city has been brewing since June when the McGuire Veterans Administration Hospital awarded Metro Health a contract to provide non-emergency ambulance service to patients, according to Metro Health officials. The award has not been publicly announced or confirmed by the VA.
When the VA required Metro Health to get a Richmond permit before it made the award, Metro-Health found itself blocked and filed a federal lawsuit.
U.S. District Court Judge John A. Gibney Jr. on Oct. 3 rejected the company's request for a temporary restraining order to force the city to allow Metro Health to operate transport service for the VA hospital, but the city has since been scrambling to avoid further legal action.
Without any consultation with City Council or the RAA, the city created a new permit system for non-emergency medical transport and gave Chief Carter authority to review applications and make recommendations that ultimately could go to City Council.

Western-Star filed for the permit in mid-October, and Chief Carter and his principal reviewer, Tracy Thomas, a Richmond fire battalion chief, recommended to the mayor and Selena Cuffee-Glenn, the city's chief administrative officer, that it be approved. Mayor Stoney then submitted the ordinance to City Council.
However, at the committee hearing, neither Chief Carter or Battalion Chief Thomas could explain how they found a "public necessity" for Western-Star to operate, a key requirement to gain a city permit.

They offered no evidence that RAA, which is nationally recognized and highly esteemed in the city, was unable to offer the service.
And they could not explain why there was no mention of Mr. Doyle's record. Battalion Chief Thomas said Mr. Doyle's name was not included in information on the company's officers and directors that Western-Star provided in its permit application, although Mr. Doyle, a former congressional candidate in South Carolina, is named in Western-Star's lawsuit.
RAA CEO Chip Decker said approval of a permit for Western-Star could open the floodgates to other competition.
He said the loss of the VA business could cost RAA $1.5 million in annual revenue. Losing that money, he stated, would require RAA to seek an increase in the city's yearly "subsidy to ensure residents of Richmond have proper and adequate emergency services, decreased revenue that is used to maintain the overall EMS service and reduce City Council oversight as to the care provided to their constituents since care would be split among providers."
The committee also postponed action on another ordinance Mayor Stoney proposed that would give Chief Carter authority to suspend RAA's operations for up to two weeks.