Legend of NFL's 'Fearsome Foursome' remains
Fred Jeter | 11/29/2018, 6 a.m.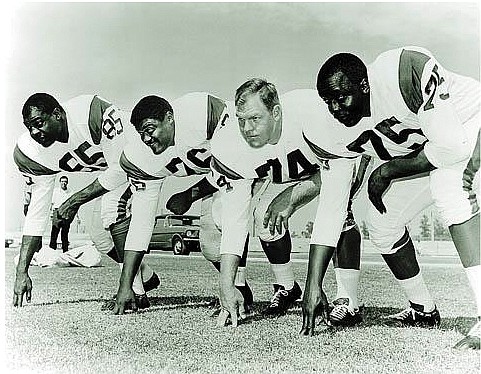 "Fearsome Foursome" remembered
Here are members of the Los Angeles Rams' front four during the mid- to late 1960s:
• Lamar Lundy (6-foot-7, 280 pounds, from Purdue University): He garnered All-Big 10 honors for football and basketball in college and was drafted by NFL and NBA teams. He scored nine NFL touchdowns, six receiving and three via interceptions.
• Roosevelt "Rosey" Grier (6-foot-5, 284 pounds, from Penn State University): He became a bodyguard for Robert F. Kennedy when the senator was campaigning for president, and wrestled the gun away from his assassin, Sirhan Sirhan, in June 1968 in Los Angeles. As a protestant minister, he was a counselor for O.J. Simpson during Mr. Simpson's 1995 trial for the murder of his ex-wife and her friend.
• David "Deacon" Jones (6-foot-5, 272 pounds, from South Carolina State University and Mississippi Industrial College): He was a brutal competitor on field but fun loving off the gridiron. "Deacon," who led the team in prayers, appeared in several television shows, including "The Brady Bunch," "Bewitched" and "Wonder Woman."
• Merlin Olsen (6-foot-5, 270 pounds, from Utah State University): He came to be known as farmer Jonathan Garvey on "Little House on the Prairie" and later as "Father Murphy" in his own TV series. He earned trips to 14 Pro Bowls.
The Los Angeles Rams, 10-1, are riding high these days with one of the NFL's most historically explosive offenses — 36 points and 449 yards per game.
It was much different in the 1960s, when the Los Angeles team rose to prominence with an intimidating defense featuring its famed "Fearsome Foursome."
Three of the four-man front — Lamar Lundy, Rosey Grier and Deacon Jones — were African-American playing at a time when the football league was still predominantly white.
Wearing the franchise's trademark horns on their helmets, the Fearsome Foursome wreaked havoc on opposing offenses that dared to enter the Los Angeles Coliseum. None other than the great Dick Butkus, the Hall of Fame linebacker for the Chicago Bears, referred to them as the "most dominant line in football history."
From 1967 to 1969, the Rams posted a 32-7-3 record while winning two Coastal Division titles.
Los Angeles led the NFL in 1967, allowing just 196 points in 14 games under Coach George Allen (1966-1970). Allen later coached the Washington NFL team.
From 1964 to 1968, the Rams allowed the least rushing yards in the NFL each season.
Before teams had their own planes, it was a long flight for an opponent to reach the West Coast, and generally a long afternoon upon arrival. The "Fearsome Foursome" was taller and heavier than just about any defensive line in that era and plenty quick and mean during game time. They were terrifying to rival running backs and quarterbacks alike. Opposing offensive linemen felt like calling in sick.
The Rams averaged 44 sacks per season from 1964 and 1968, showcasing the most ferocious pass rusher of all-time, Jones, who had 26 sacks in 1967 before it was an official statistic. In fact, it was Jones who coined the term "sack."       
"I gave it some thought and came up with 'sack,' like you sack a city," he told NFL Films. "You sack a city, you devastate it."
Jones, who was named to the NFL Hall of Fame in 1980, also is credited with introducing the "head slap," a tactic that left many an offensive lineman with birdies singing in their helmet.
The brain-rattling move later was outlawed, probably setting off a celebration by headachy pass blockers.
"Fearsome Foursome" members arriving in the late 1960s via trades were draftee Diron Talbert, along with Roger Brown and Coy Bacon. Virginia State University's Larry Brooks came along a bit later in 1972.
The 1960s were an exciting transitional period for the NFL. Football was beginning to surpass baseball as America's favorite sport.
The Sunday TV "doubleheader" became a new hit, creating "football widows" coast to coast. Pacific Time Zone Rams often were featured in the 4 p.m. nightcap (on the East Coast), becoming "America's Late Afternoon Team."
Gridiron fans watch the 2018 edition of the Rams to see plenty of offensive fireworks. But in the late aftenoons in the 1960s, fans tuned in to see the "Fearsome Foursome" plant quarterbacks on their backs.