Betting on the champion
Dr. James B. Ewers Jr. | 10/4/2018, 6 a.m.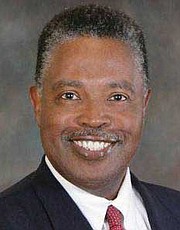 A lot of people have won individual and team championships. Some have even set records. But there is one distinct difference between championships and records. Championships can never be taken away; records can be broken.
Great achievements bring great joy. That is what winning does. You must have a high skill level and be able to execute shots at crunch time. A person's ability to throw a pass in a tight window or to hit a winning 3-point shot requires superior athleticism.
I remember one of my coaches telling me that you play like you practice. If you practice in a sloppy manner, you will probably play in a less than determined way.
Many years ago, my physical education teacher, George Green, was also the boys' basketball coach. Coach Green was an excellent teacher and a great basketball coach. In class, he would tell us that it's hard, but it's fair. That message resonated with me then, and stays with me today. I found that life and sports mirror one another. It takes special people in both arenas to achieve extraordinary things.
I have lived long enough to watch people make special contributions to our society. Dr. Martin Luther King Jr. and Rosa Parks were difference-makers in civil rights. Their personal sacrifices made a dream come true. As you travel across America, you will see a lot of schools and buildings named in their honor. They were important figures and drew large crowds wherever they were.
The same is true in sports. There are some athletes who are magnetic and draw large crowds. Muhammad Ali was a champion in the ring and out of the ring. Mr. Ali took on social issues and spoke passionately about them. He was a beacon for justice.
If you watched professional golf a few days ago, you saw another champion, Tiger Woods, win the Tour Championship.
We know that Tiger Woods made some mistakes in his life; they are well chronicled. What happened to him probably would have made most people crumble, never to be heard from again. But not Tiger Woods. Physically, he had four surgeries on his back. How do you recover successfully from that?
If you are a Tiger critic, then your immediate response is that he had enough money to be able to afford the best doctors and health care. Yes, but that's not how the story ends. Tiger Woods also exhibited enormous determination to get back in the game.
Many of us didn't pay much attention to golf before Tiger Woods. Old school guys like me can recall golfers like Lee Elder and Charlie Sifford. They paved the way for Tiger Woods.
Much of America was watching Tiger Woods and not watching professional football. He made pro football seem not as important.
Some sports commentators had said he would never win another major championship. Tiger last won a PGA event in 2013. Five years later, he stands in the winner's circle again with his 80th tour title.
Are you going to bet against Tiger Woods? Not me.
The writer is the former associate dean for student affairs at Miami University of Ohio at Middletown and is president emeritus of the Teen Mentoring Committee of Ohio.