Critics assail racial double standard in Kavanaugh case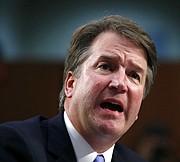 WASHINGTON
Marcus Dixon was sentenced to 10 years behind bars in Georgia for having sex with an underage white girl when he was 18. Dayonn Davis, another black youth, got a five-year prison sentence for stealing a $100 pair of shoes at gunpoint when he was 15.
It's cases like those that minorities and others point to with frustration when they hear some of Judge Brett Kavanaugh's defenders say the sexual assault and underage-drinking accusations against the U.S. Supreme Court nominee fall under the category of "Boys will be boys.''
Some see a racial double standard at work, complaining that when young black people get into trouble, their actions rarely are viewed as youthful folly in the way that the misdeeds of privileged whites are.
"I think there is a very distinct difference between the benefit of the doubt that is extended to black males and to white males,'' said Jarvis DeBerry, columnist and deputy opinion editor of NOLA.com/Times Picayune.
Studies show young black people are often perceived as older and less innocent than white white people their age, a phenomenon some say translates all too often into African-American youths being demonized as "thugs,'' arrested, incarcerated and sometimes killed.
Judge Kavanaugh's accuser, Christine Blasey Ford, said a drunken young Judge Kavanaugh held her down, tried to take off her clothes and covered her mouth to muffle her screams when they were high school students in the 1980s. He has forcefully denied doing any such thing to anyone, and many supporters say they believe him.
Others have suggested that if it did happen, he might deserve a pass.
"Let's say he did this exactly as she said. Should the fact that a 17-year-old, presumably very drunk kid did this, should this be disqualifying? That's the question at the end of the day, isn't it?'' Bari Weiss, a New York Times opinion editor, said on MSNBC.
Black boys as young as 10 are more likely to be mistaken as older, be perceived as guilty and face police violence if accused of a crime, according to an American Psychological Association report in 2014.
Adults likewise think that black girls are less innocent, are less in need of protection and nurturing, and seem older than white girls, according to a 2017 report from the Center on Poverty and Inequality at the Georgetown University Law Center.
Eileen M. Ahlen, assistant professor of criminal justice at Penn State University at Harrisburg, said it is not just young people who are treated differently.
Ms. Ahlen said research shows that there is disparate treatment at all stages of the justice system _ who's stopped, who's arrested, who gets bail, who gets prosecuted, severity of sentence, who gets parole _ with white people able to exit the criminal justice system earlier and with less impact than minorities.
Even when accounting for similar crimes, "generally, all else being equal, a person of color is going to receive a harsher sentence,'' she said.