Grim: State accreditation and dropout data, recent audits reveal problems that have long plagued Richmond Public Schools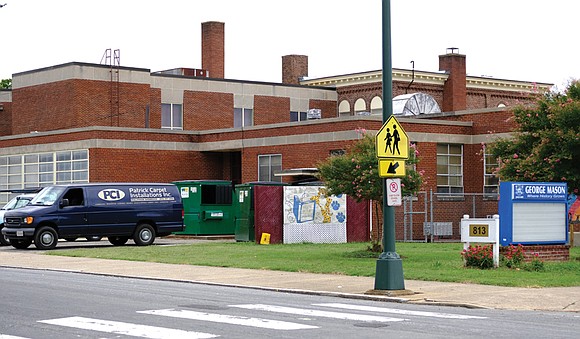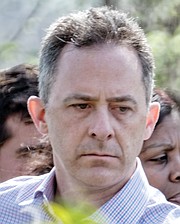 Educating all students remains a tough challenge for Richmond Public Schools.
While the data show the majority of students complete 12 years and leave with a diploma to start careers or begin additional study, Richmond seems unable to make classroom education meaningful for a substantial minority who end up dropping out.
The latest report on school accreditation indicates the educational divide in the city.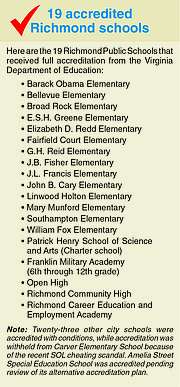 According to the Virginia Department of Education's accreditation report released on Sept. 27, only 19 of Richmond's 44 public schools were awarded full accreditation, meaning they met state standards. Another 24 schools were accredited with conditions, meaning they did not.
State data also show RPS lags behind in other key areas, including on-time graduation rates and attendance.
One school, George Washington Carver Elementary, was not accredited, RPS Superintendent Jason Kamras stated, because of the cheating scandal on state Standards of Learning tests that was exposed earlier this year.
"Next year, Carver will be back for normal consideration of accreditation," he said.
The accreditation lists reflect the changes that VDOE has ushered in.
Previously, VDOE awarded accreditation based solely on the percentage of students passing SOL tests in core subjects — reading, writing, math, science and social studies.
Now Virginia has multiple quality measures for accreditation of schools. Along with pass rates on SOL tests, the new standards also measure how well each school has done in increasing academic performance and reducing the number of students who do not pass compared with previous years. Graduation rates, absenteeism and dropout rates also are measured, particularly at the high school level.

Schools that are near, meet or exceed state standards receive top- and second-tier ranking and are fully accredited. However, schools that rank below state standards on one or more of the quality measures is accredited with conditions.
Schools also can be denied accreditation if they don't submit improvement plans.
By any measure, RPS, as well as its individual schools, have a ways to go to meet or exceed state averages.
For example, the state reported that 75 percent of the Class of 2018 graduated in June after four years of high school, the lowest on-time graduate percentage among the 132 school divisions in Virginia and a drop from 2016 when 80 percent of the Class of 2016 graduated in four years.
Richmond also faces an attendance challenge. VDOE data show that 20 percent of RPS students — one in five — are chronically absent at the high school and middle school levels, among the highest levels in Virginia.

Not surprisingly, the state reported that 20 percent of the Class of 2018 dropped out before graduation. That was the overall dropout rate for the division, the highest among all Virginia public school divisions.
The situation was even worse among students listed as English language learners. Two-thirds of that specific student group dropped out, state data show.
The state reports only added to the anxiety over public education in Richmond that was generated by the release of new audits from the Washington-based Council of the Great City Schools and The Education Trust. Mr. Kamras had requested the audits, with the results only confirming that Richmond schools are struggling.
The Education Trust, which analyzed data from the 2016-17 and 2015-16 school years, reported that Richmond's graduation rates lagged behind state averages, both for students overall and for all individual student groups.
For example, while 88 percent of African-American students in Virginia completed high school in four years, just 80 percent did in Richmond.
Graduation rates also remain critically low for Richmond's Latino students, with only 41 percent earning their high school diplomas in four years, compared with 81 percent statewide.
Richmond's lowest graduation rates involve the five comprehensive high schools, the Education Trust found. By contrast, virtually all students at the city's selective high schools — Open, Richmond Community and Franklin Military Academy — graduated on time.

Half of graduates statewide earned an advanced diploma, signaling readiness for college or careers, while in Richmond, only about 25 percent did.
"This data tells us that we still have a long way to go," said Richmond School Board Chairwoman Dawn Page.
"We are optimistic that some of our schools have made progress by showing growth on the new measures. We remain committed to the success of all of our students."
Board member Jonathan Young, 4th District, said the audits confirm his low opinion of previous school administrations.
"RPS was criminal in the mistreatment of minority children, and these audits sealed the deal," he said.
Still, he said, the audits were needed.
"I say that before you can fix a problem, you have to first admit that there is a problem."
Since his arrival in February, Mr. Kamras has sought to tackle the problems that are well known and that the audits confirmed.
To help usher in change, the School Board approved Mr. Kamras' new strategic plan, which outlines steps to support schools and enable each to meet current accreditation standards and provide the rich educational experiences parents want for their children.
"Our goal is to have 100 percent of our schools accredited by 2023," Mr. Kamras stated in response to the state accreditation report.
Jeremy M. Lazarus contributed to this story.