Survey picks Golden State Warriors for repeat title; LeBron James for MVP
10/18/2018, 6 a.m.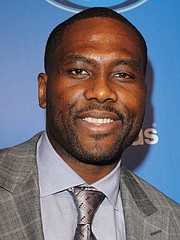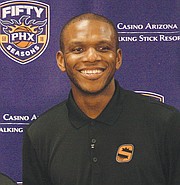 Today's NBA seems to be tilted toward the West Coast.
According to the basketball league's 30 general managers, the Oakland-based Golden State Warriors are picked to win their third straight NBA championship title and fourth in five years.
With the league's 73rd season opening this week, here are predictions from the annual NBA.com GM Survey.
Best team: Golden State Warriors, with 87 percent of first place votes; the Boston Celtics and Houston rockets tied for second, with 7 percent of the votes.
2018-19 MVP: LeBron James of the Los Angeles Lakers, 30 percent; Kevin Durant of the Golden State Warriors, 27 percent; Anthony Davis of the New Orleans Pelicans, 17 percent; and James Harden of the Houston Rockets, 10 percent.
Best point guard: Steph Curry, Golden State Warriors, 57 percent; Russell Westbrook, Oklahoma City Thunder, 17 percent; and Kyrie Irving, Boston Celtics, and Chris Paul, Houston Rockets, tied at 10 percent.
Best shooting guard: Harden, 73 percent; Klay Thompson, Golden State Warriors, 10 percent; and Curry, 7 percent.
Best small forward: James, 57 percent; Durant, 40 percent; and Giannis Antetokounmpo, Milwaukee Bucks, 3 percent.
Best power forward: Davis, 57 percent; James, 33 percent; and Durant, 17 percent.
Best center: Davis, 40 percent; Joel Imbiid, Philadelphia 76ers, 33 percent; and Karl-Anthony Towns, Minnesota Timberwolves, 7 percent.
Best defensive player: Rudy Gobert, Utah Jazz, and Kawhi Leonard, Toronto Raptors, 37 percent; and Draymond Green, Golden State, 17 percent.   
Rookie of the year: Luka Doncic, Dallas Mavericks, 43 percent; and Marvin Bagley, Sacramento Kings, and Wendell Carter, Chicago Bulls, 17 percent each.      
Most improved team: LA Lakers, 80 percent; and Dallas Mavericks and Phoenix Suns, 7 percent each.
Best coach: Brad Stevens, Boston Celtics, 47 percent; Gregg Popovich, San Antonio Spurs, 30 percent; and Steve Kerr, Golden State, and Mike D'Antoni, Houston Rockets, 7 percent each.    
Best home-court advantage: Golden State, 50 percent; Utah Jazz, 27 percent; and Denver Nuggets, 13 percent.
Other NBA items of note:
The NBA All-Star Game: Feb. 17 at the Spectrum Center in Charlotte, N.C.
Playoffs: Regular season ends April 10, with playoffs starting April 13. 
Top draft pick: Incoming No. 1 pick is Deandre Ayton of Phoenix from the University of Arizona.
New head coaches: Lloyd Pierce (Atlanta Hawks); James Borrego (Charlotte Hornets); Dwane Casey (Detroit Pistons); Mike Budenholzer (Milwaukee); David Fizdale (New York Knicks); Steve Clifford (Orlando Magic); Igor Kokoskov (Phoenix); Nick Nurse (Toronto).
General managers: There are two new African-American GMs, Elton Brand in Philadelphia and James Jones in Phoenix.
Stadium updates: The Milwaukee Bucks move into the Fiserv Forum after playing 1988 through 2018 at the Bradley Center. This will be the final season the Golden State Warriors play at the Oracle Center in Oakland. The team moves next season to Chase Center in San Francisco.    
Television: ABC, ESPN, TNT, NBA-TV