Golden State Warriors' 'strength in numbers' more than a slogan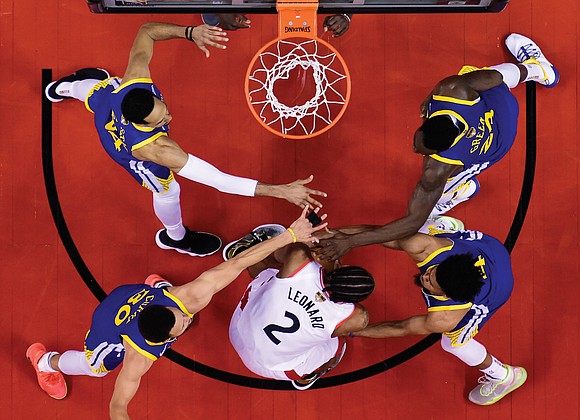 The Golden State Warriors' motto during their historic glory run has been "Strength in Numbers."
Yellow and black promotional T-shirts with different designs are frequent giveaways at their home court, the Oracle Arena in Oakland, Ca., and sold at retail stores throughout the Bay Area. 
It's not just a saying. The catch phrase rang true Sunday, June 2, as the Warriors, in pursuit of a fourth NBA title in five years, relied on its full roster to even the best-of-seven games in the NBA finals against the Toronto Raptors.
Despite injuries that might doom others, the "Dubs" defeated Toronto 109-104 before a crowd of 20,014, including former President Obama, at Scotiabank Arena in Toronto.
The Raptors won the first game in Canada 118-109 on Thursday, May 30, with Pascal Siakam scoring 32 points.
Coach Steve Kerr's Warriors have a deep well of talent that doesn't shrink when the bright lights shine. NBA All-Stars Klay Thompson (25 points), Steph Curry (23 points) and Draymond Green (17 points) did their part, but numerous others came to the rescue.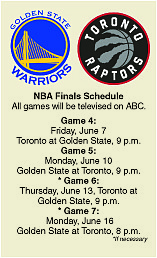 You don't have to be a star to shine at the Oracle Arena. The Warriors' DeMarcus Cousins, having missed most of the playoffs with a leg injury, had 11 points and 10 rebounds. Andre Iguodala had eight points, including the Warriors' Game 2 victory clinching 3-pointer with 5.9 seconds to go, and showcased his usual lockdown defense.
Quinn Cook came off the bench to nail three 3-pointers. Sean Livingstone tossed in another six points in a reserve roll.
Regarding "Strength in Numbers," Curry said this in the postgame news conference: "That's not just something you throw out there for marketing. When you get to this stage, our DNA shows up. That's part of who we are."
In all, 13 Warriors contributed to the Game 2 victory. Not included in that mix is Kevin Durant, who is still ailing with a leg injury.
Durant did not play in Golden State's 4-0 romp of the Portland Trail Blazers in the Western Conference finals and hasn't taken the court during the finals' first two games. Durant, the MVP of the last two NBA Finals, remains a question for the remainder of the series.
Also, Thompson limped off the court in the fourth quarter in Toronto with an apparent hamstring injury.
The Warriors have won the NBA championship with Durant in 2017 and 2018 and without him in 2015. They finished second to Cleveland, without Durant, in 2016.
Golden State is the first team to reach the finals in five straight seasons since the famed Boston Celtics of the 1950s and 1960s. Boston won 11 crowns in 13 seasons from 1957 to 1969.
But different-era comparisons may be unfair. Golden State must navigate through 30 NBA franchises to attain the summit. Today, NBA teams are spread coast to coast, and even into Canada. There are four grueling rounds of best-of-seven eliminations.
When the Boston Celtics first won the NBA crown in 1957, there were only eight teams and one round of playoffs in a compact league centered in the Northeast. During the Celtics' final title win in 1969, there were only 14 teams.
When Boston defeated St. Louis for the 1957 title, the playoffs ended April 13. Now the season ends in mid-June.
The season has become a fall to nearly summer marathon. That's why "Strength in Numbers" is so essential.
---
In other news, Coach Kerr showed support for the shooting victims in Virginia Beach by wearing a "Vote for Our Lives" T-shirt at a pregame media function.