Remembering Virginia's African-American WWI soldiers
Elizabeth L. O'Leary | 10/25/2018, 6 a.m.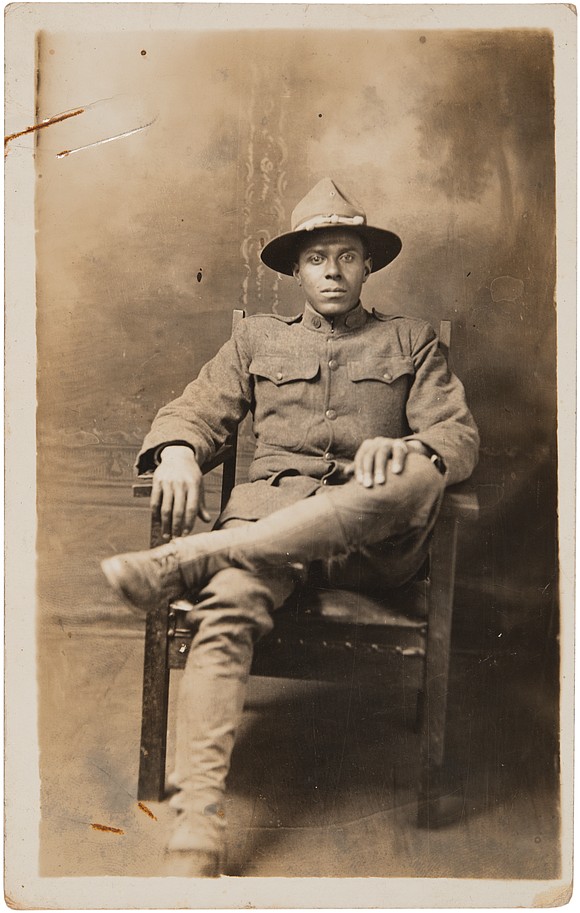 Of the state's 3,700 war dead, approximately 600 black Virginians gave their lives — most of them from disease (the military was ravaged by a global flu pandemic). Nearly 100 were killed in action or died from battle wounds. Among them was Lt. Urbane Bass, a Richmond native who established his medical practice in Fredericksburg before the war. The Army field doctor was fatally wounded by an artillery shell while treating the wounded.
The Great War ended with a ceasefire agreement on Nov. 11, 1918. The following spring and summer, American troops returned to the United States to joyous homecoming parades. Nonetheless, Virginia's entrenched segregation mandated that black soldiers march on different days and along different routes from their white comrades.
George H. Ben Johnson, editorial cartoonist for the Richmond Planet, found such pageantry meaningless. On June 21, 1919, he depicted an African-American soldier saluting a personification of Virginia. He implores her: "Don't Camouflage with Drills. No, No!! Cut out the flags and the hurrahs. Abolish the Jim Crow laws. ... Do something of consequence for us."

That same day, race riots broke out in Norfolk. It was one of several bloody uprisings across the country that marked the "Red Summer" of 1919.
In an essay for The Crisis magazine that spring, Mr. Du Bois urged the thousands of black veterans to marshal every ounce of "brain and brawn to fight a sterner, longer, more unbending battle against the forces of hell in our own land." He concluded:
We return.
We return from fighting.
We return fighting.
Through new avenues of consciousness, service and determination, veterans of the Great War helped launch America's modern Civil Rights Movement. Men like those pictured in the Library of Virginia's exhibit helped inspire the next generation to bring it to fruition.
"True Sons of Freedom" is on view through Friday, Nov. 9, at the Library of Virginia, 800 E. Broad St. The exhibit is free and can be viewed during the library's hours 9 a.m. to 5 p.m. Monday through Saturday. Log on to see photographs and learn more about Virginia's black WWI soldiers: http://truesons.virginiamemory.com.
Commemorate the 100th anniversary of the Armistice of World War I at the Carillon War Memorial in Byrd Park, 11 a.m. Sunday, Nov. 11. Gov. Ralph S. Northam will officiate. Family activities follow from noon to 2 p.m. Details: http://vawarmemorial.org/event/commonweath-virginias-veterans-day-ceremony.
The writer is a community historian and retired associate curator of American art at the Virginia Museum of Fine Arts.