Friends, family say goodbye to Aretha Franklin in marathon funeral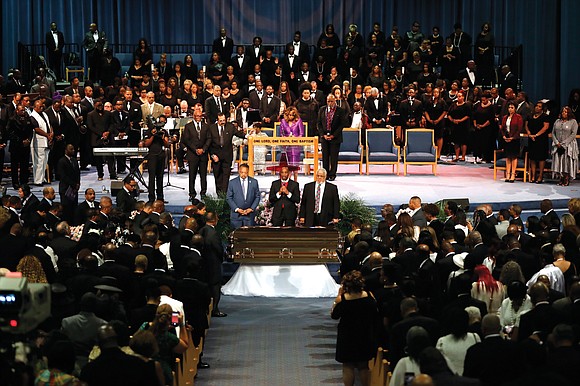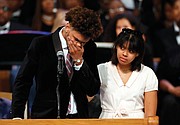 "Nothing sounded better to me than the way my grandma sings," Victorie Franklin said.
Motown singer and friend Smokey Robinson crooned a few lines of his song "Really Gonna Miss You." Ariana Grande belted out "Natural Woman" while Gladys Knight took on "You'll Never Walk Alone."
An ensemble performance of "Precious Lord" so moved the congregation that the officiant told the orchestra to keep going as clergy danced on the stage, expanding a program that by then was already running two hours behind schedule.
Her civil rights legacy was mentioned often during the service. Several speakers used the moment to continue to demand respect for black America. Amid the personal reflections were calls to register and turn out to vote in November and condemnation of President Trump, who, upon her death, referred to Ms. Franklin as "someone who worked for me" — a comment that rankled many.
"No — she used to perform for you," Rev. Sharpton said to cheers and applause from the crowd. "She worked for us. Aretha never took orders from nobody but God."
Others seized on President Trump's comments and Ms. Franklin's message of dignity to speak to the present social and political climate. In pointing out the long lines to pay tribute to Ms. Franklin last week, Rev. Jackson lamented that the lines to vote often aren't nearly as long.
"Aretha was on the battleground for 60 years," Rev. Jackson told the audience. "We have long lines to celebrate death, and short lines for voting. Something is missing. If you leave here today and don't register to vote, you're dishonoring Aretha."
Judge Greg Mathis, one of Ms. Franklin's many friends who often talked politics with her, said that his last conversation with Ms. Franklin earlier this summer was about the ongoing water crisis in Flint, Mich., where government negligence has left residents living with lead-tainted water since 2014.
"Her last words to me ... were 'Go back up there and sock it to 'em!,' " Judge Mathis told the crowd before vowing that he would in her memory.
Georgetown University professor Michael Eric Dyson took several shots at President Trump in his remarks, assigning the president several nicknames — "orange apparition," "lugubrious leech," "doppleganger of deceit and deceit," "lethal liar," "dimwitted dictator" and "foolish fascist."
"She ain't work for you," Dr. Dyson shouted over applause. "She worked above you. She worked beyond you. Get your preposition right."
Late Friday, Ms. Franklin's casket was entombed in Detroit's Woodlawn Cemetery near her father, the Rev. C.L. Franklin; her brother, Cecil Franklin; and her sisters, Carolyn and Erma Franklin.
Later Friday, Bishop Ellis apologized to Ms. Grande for how he touched her onstage and joked about seeing her name on the funeral program and thinking it was a new item on the Taco Bell menu.
During the service, he awkwardly greeted Ms. Grande on stage after she performed. Images of the moment showed Bishop Ellis' hand holding her well above her waist, his finger pressing against one side of her chest. Many people posted close-up images of the moment on Twitter, tagging it #RespectAriana.