Kaepernick draws fire again — this time over Nike ad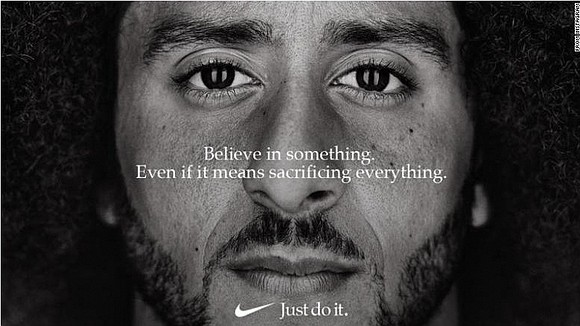 Controversy continues to surround former San Francisco 49ers quarterback Colin Kaepernick two years after he first took a knee during the national anthem to protest the oppression of people of color and continuing police brutality against African-Americans.
Now, protesters on social media are calling for people to burn their Nike sneakers and boycott the sporting goods maker after Nike chose Mr. Kaepernick to participate in its new ad campaign.
Mr. Kaepernick will be one of several faces for a campaign marking the 30th anniversary of Nike's "Just Do It" slogan.
More than 30,000 people were tweeting with the hashtag #NikeBoycott on Tuesday morning, making it among the top trending topics on Twitter. Some posted images of themselves burning and ripping their Nike shoes and apparel.
"First the @NFL forces me to choose between my favorite sport and my country. I chose country," Twitter user @sclancy79 said in a post retweeted 16,000 times. "Then @Nike forces me to choose between my favorite shoes and my country. Since when did the American Flag and the National Anthem become offensive?"
Others edited the ad to show images of U.S. Army veterans with the same caption, criticizing Nike for signing the athlete and saying it disrespected the memory of fallen soldiers.
Still, there were a large number of other users who responded positively to Nike taking a stand on social issues.
Athletes including LeBron James, Kevin Durant, Serena Williams and Chris Paul showed support, posting images of Mr. Kaepernick's ad on their Instagram profiles.
Even former Iranian President Mahmoud Ahmadinejad weighed in on the latest controversy, tweeting: "The #NFL season will start this week, unfortunately once again @Kaepernick7 is not on a NFL roster. Even though he is one of the best Quarterbacks in the league."
Shares in the Beaverton, Ore.-based Nike Inc. fell more than 2 percent after Mr. Kaepernick posted a black-and-white close-up of himself on Instagram on Monday featuring the Nike logo and "Just do it" slogan, along with the quote: "Believe in something. Even if it means sacrificing everything."
Mr. Kaepernick has been sponsored by Nike since 2011, but reportedly negotiated a new deal with the brand that will include a signature shoe and apparel.
President Trump has been critical of athletes taking a knee during the national anthem and has said he would love to see NFL owners fire football players who disrespect the American flag.
Nike is the latest sports brand to face boycott calls, which industry analysts said can alienate some customers, while winning over others, but often blow over quickly.
"Nike is not a stranger for backing sporting personalities who take views and act on them. Politicizing sport is likely to result in polarizing demographics," said John Guy, an analyst at Mainfirst Bank in London.
"Freedom of speech is one of America's core tenants, so placing this freedom within a sporting context for a brand as big as Nike will always make headlines," he added.
Under Armour faced criticism last year after its chief executive made comments supporting President Trump, while Adidas drew calls in May to cut its ties to rapper Kanye West after he described slavery as a choice and praised President Trump.