Panthers on the prowl for win in N.C.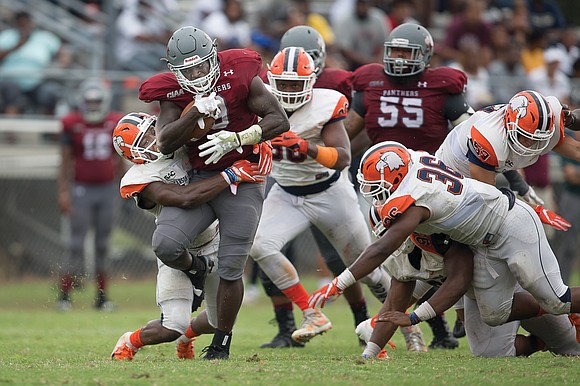 Panthers vs. the Golden Bulls
Saturday, Sept. 15
Virginia Union University plays Johnson C. Smith University at the Irwin Belk Complex in Charlotte, N.C. Kickoff: 4 p.m.
Two weeks into the Alvin Parker coaching era at Virginia Union University, it's apparent the Panthers are committed to a powerful running attack.
Expect that ground-and-pound strategy to continue this Saturday as VUU travels to struggling Johnson C. Smith University in Charlotte, N.C.
"Right now, we're at the top of the conference in rushing. That speaks volumes," Coach Parker said. "We've got a strong offensive line that blocks well on the run and, so far, hasn't given up a sack."
VUU is 1-1 after a 33-29 loss last Saturday to visiting Carson-Newman University of Tennessee before more than 5,000 fans at Hovey Field.
The Panthers will be taking on a Johnson C. Smith squad that twice this season has been hammered on its home field. The Golden Bulls opened with a 36-0 loss to Wingate University followed by a 47-14 defeat last week to Benedict College of South Carolina.
VUU surely will test a generous Smith defense with sophomore Tabyus Taylor, who ran for 109 yards and two touchdowns on 24 tries in the game against Carson-Newman.
The 250-pound tailback from Hopewell also caught seven passes for another 50 yards from Panthers quarterback Darius Taylor.
"Tabyus is the engine," Coach Parker said. "He's a playmaker. He can do just about anything you ask him to."
Combining brute power with surprising speed and agility, Taylor leads the CIAA with 142 yards overland per game. He's also No. 1 in touchdowns with five.
As a unit, VUU leads in conference rushing with 427 yards on 81 carries. The Panthers are averaging 5.3 yards per carry.
VUU travels efficiently by air, too. Darius Taylor threw for 182 yards in the game against Carson-Newman, while also running for another 69 yards.
Shamdu Nalls, Khari Johnson and Justin Smith have been among the more dominant blockers for "Taylor & Taylor."
Coach Parker also is proud of his special teams units under Coach Troy Shaffer. The Panthers have blocked four kicks, including one leading to a rare safety against Carson-Newman.
Sterling Hammond blocked an extra point and ran with the ball to midfield, where he pitched it to Quantaye Battle, who carried it the rest of the way.
Also, VUU received a 45-yard field goal from Floridian Jefferson Souza 6 seconds before halftime. The school record of 48 yards was set by Hugo Diaz-Flores in 2006.
A defensive standout has been linebacker Taj Conway from J.R. Tucker High School in Henrico County. Conway had nine tackles plus a fumble recovery against Carson-Newman.
Johnson C. Smith's Coach Kermit Blount has struggled during his four seasons in Charlotte. The Golden Bulls were 4-6 in 2015, 3-7 in 2016 and 2-8 last season, and now the poor start this season.
A native Richmonder, Coach Blount was a star quarterback at Armstrong High School and Winston-Salem State University. He then had some outstanding seasons coaching at Winston-Salem State.
VUU is 30-8 overall against the Golden Bulls in a series dating to 1926. The Panthers have won 13 of the last 15 meetings, most recently in 2015 by 33-3.
Weather note: At Free Press press time on Wednesday, officials postponed the Virginia State University football game against St. Augustine's University in Raleigh, N.C., on Saturday, Sept. 15. However, no decision had been announced on Virginia Union University's Saturday game against Johnson C. Smith University in Charlotte, N.C.