Personality: Dr. Shantell D. Lewis
Spotlight on founder of nonprofit Here2Hear
9/20/2018, 6 a.m.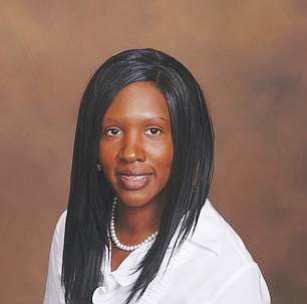 Want to go?
What: 3rd Annual Here2Hear Gala and Art Show, a fundraiser to benefit the nonprofit organization's programs to promote hearing health, including providing free hearing tests, free or low-cost hearing aids and hearing health seminars and programs.
When: 6:30 to 9:30 p.m. Saturday, Sept. 29, at Lewis Ginter Botanical Garden, 1800 Lakeside Ave.
Tickets: $45 to $55.
Details: The event will feature music, entertainment, art and a silent auction.
Information and ticket purchase: www.Here2Hear.org or (804) 774-8311.
Hearing is one of our most precious gifts, giving us the ability to communicate effectively, which should not be taken for granted.
This is the core belief and driving passion for Dr. Shantell D. Lewis, founder of Here2Hear. The nonprofit organization, now in its eighth year, offers a host of free services and programs related to hearing health care for children and adults in the Richmond and Tri-Cities areas.
Dr. Lewis, a 41-year-old audiologist dedicated to advocacy and helping others, also leads Here2Hear's board that is made up a variety of health care professionals who want to boost hearing health in the metro area.
Working for several ear, nose and throat specialists, Dr. Lewis said she noticed people leaving the doctors' offices needed hearing help but couldn't cover the cost of hearing aids, and subsequently, would forego additional treatment.
"The nonprofit was founded based on that disparity and the much needed healthier hearing services," Dr. Lewis says. "Those underserved communities are not just people living below the poverty line, but every-day working people who simply can't afford health care."
Here2Hear provides free hearing tests and healthy ear examinations by licensed audiologists. It also provides free and low-cost hearing aids to people with hearing loss; educational seminars and written materials, including programs to teach young people how to protect their hearing by lowering the volume of their music and reducing the amount of time they are exposed to loud noise; and free kits to help people with hearing loss to communicate effectively in emergency situations.
Proceeds from Here2Hear's Annual Gala and Art Show, slated for Saturday, Sept. 29, at Lewis Ginter Botanical Garden, help fund its programs and services.
"I give 10 percent of my earnings each month to Here2Hear," says Dr. Lewis, who started the fundraising event three years ago.
Dr. Lewis' interest in audiology was piqued when she participated in a biology project during her freshman year at Virginia Union University in 1995.

"We were to talk to professionals in the field we wanted to pursue and I found Dr. Randall Dalton, an ear, nose and throat specialist," Dr. Lewis recalls. Her persistence helped get her past a reluctant receptionist, she says, and she was introduced to an audiologist in Dr. Dalton's office.
"I did a four-year, unpaid internship and realized my professional passion," Dr. Lewis recalls. "I discovered audiology was what I wanted to do because it involved the ear, although I still loved all of the senses."
Her experience led her to earn degrees in biology from VUU in 1999, a master's in audiology from Howard University in 2002 and a doctorate in audiology from the University of Florida in 2009.