Cleveland Browns one of 1st NFL teams to add African-American players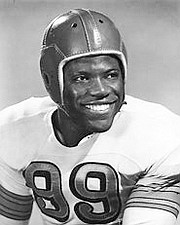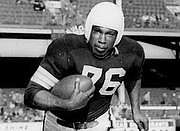 It's a major surprise now when the Cleveland Browns win a football game. Winless in 2017, the Browns defeated the New York Jets Sept. 17 for its first win since December 2016.
But Browns historians can recall happier days. There was a period when the Ohio team almost never lost, in large part because the team got the jump on its NFL competitors by including African-American athletes in its talent pool.
The Browns' domination from 1946 to 1950 featured fullback Marion Motley and defensive end Bill Willis, both of whom would become NFL Hall of Famers. During those years, the Browns were 59-6-3, with four championships in the All-American Football Conference (AAFC) and a fifth in 1950 following the NFL/AAFC merger.
 Motley and Willis were signed by Browns owner/coach Paul Brown prior to 1946, becoming the first African-Americans to play pro football in what is considered the "modern era."
In 1946, the NFL Los Angeles Rams signed Kenny Washington and Woody Strode, who later became an actor.
There had been no African-American players since 1933 because of a "gentleman's agreement" among team owners.
Pro football's integration was some seven months prior to Jackie Robinson's baseball debut with the Brooklyn Dodgers in April 1947.
Motley and Willis were well received, at least for home games. A Cleveland crowd of 50,000 attended the Browns' season-opening win over the Miami Seahawks.
However, that same season, Motley and Willis did not make the trip South to Miami because of threatening letters. Also, Miami officials suggested they would invoke a law forbidding black and white people from playing together.
The African-American stars generally stayed in different hotels from their white teammates.
Both Motley, who grew up in Canton, Ohio, and Willis, from Columbus, Ohio, followed a crooked path to Cleveland's spotlight.
Motley played one season for South Carolina State University and two seasons for the University of Nevada before dropping out of school and returning to Canton to work. In 1944, with World War II escalating, Motley joined the Navy and was stationed at Great Lakes Naval Station north of Chicago. There he joined the Navy Bluejackets football team coached by the same Paul Brown who would become the Browns' coach in 1946.
It was natural for Coach Brown to bring Motley along to Cleveland Stadium when he got the Cleveland coaching job.      
At about 240 pounds, Motley was larger than most of the linemen of that era, surprisingly quick and a load to bring down. He wore No. 76, a lineman's number.
Motley averaged a whopping 6.2 yards per carry in the AAFC and a solid 5.0 for his full career, with 31 touchdowns despite numerous injuries.
While Motley was huge for his position, Willis was a relatively small 220-pound lineman, but remarkably fast. It was common for Willis to chase down rival ball carriers from behind in the open field.
Following an outstanding career at Ohio State, where he helped the Buckeyes to the NCAA title in 1944, Willis took the job as head coach at Kentucky State University.
He was offered a slot with the Canadian League Montreal, but opted for a tryout with the Cleveland Browns, made the team and became one of the league's top performers.
By 1950, Cleveland added two more African-American players, defensive lineman/punter Horace Gillom and defensive lineman Len Ford, who had played at Morgan State and Michigan.
The four African-American players for the Browns in 1950 represented about one third of all black players in the NFL.
Ford, like Motley and Willis, eventually would be inducted into the NFL Hall of Fame.
The Browns made their NFL debut in 1950, running the table with a championship game victory over Los Angeles on Dec. 24 in frigid Cleveland.
Showing how times have changed, it would have been a surprise then if they hadn't won. Afterward, NFL Commissioner Bert Bell called the Browns the "greatest team to ever play football."