Veteran journalist Bob Woodward talks about truth, Trump
By Nia Tariq | 9/27/2018, 6 a.m.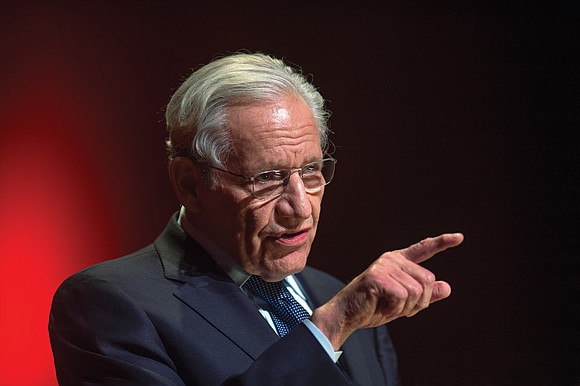 "There is a war on truth," veteran investigative journalist Bob Woodward said about the current climate in the White House and across the nation.
"You have to deal with truth. Truth is the foundation of how we have our debates and people make their decisions. We've got to reign ourselves in and be more careful — and that's hard in this environment."
The associate editor of The Washington Post, whose Pulitzer Prize-winning investigative reporting with colleague Carl Bernstein about the break-in at the Democratic National Committee headquarters at Washington's Watergate office building led to the 1974 resignation of President Richard Nixon, offered insights about the current Trump administration and the Watergate scandal during a talk Tuesday at Virginia Commonwealth University.
His speech, "Truth, Freedom of Expression, Democracy and the Age of the American Presidency," was presented to a full house at VCU's W.E. Singleton Center for the Performing Arts. He answered questions following the speech and talked about his new book, "Fear: Donald Trump in the White House," released Sept. 11.
The book, which already has hit the New York Times Best Seller list, offers insider accounts of the Trump White House and draws heavily on interviews and information from anonymous sources within the administration. President Trump declined to be interviewed for the book and has since said Mr. Woodward treated him "unfairly."
"Trump loves it," Mr. Woodward joked about the book. "He accused me of being a Democratic operative."
Mr. Woodward labeled President Trump a "disruptor" because his presidency challenges the norms set by previous administrations.
"Presidents live in the unfinished business of their predecessor," he said. "There has to be a framework — some of the old order — that you're going to use. That all works. That is the house we have to live in. You can't burn it down."
Mr. Woodward said his preparations for "Fear" resembled the approach he and Mr. Bernstein took during their Watergate reporting.
"I think method is really important," he said. "We had to knock on doors. (Bernstein) knew we couldn't go to the Nixon White House — we'd be arrested. We couldn't go to offices around town. We had to go see people at home."
He said he wrote "Fear" by operating on "deep background" — an understanding that he could utilize information provided by the source as long as it was not attributed to the source.
Typically, anonymous sources are frowned upon in the news industry because they signal potential weaknesses in credibility. However, Mr. Woodward encouraged journalists to be willing to take more risks.
"That's the business we're in and we have to keep working at it," he said. "People unfortunately do not tell the truth on the record most of the time. I think we need more deep background or background sources because then you can get the truth. Too many lies are on the record."
For the sake of credibility, Mr. Woodward said he likes to rely on written source material as well.
"You have a love affair with documents when you're in my business," he explained. "I've learned over the years, there's no one who has ever worked in the White House or the Supreme Court or Congress that doesn't take a little memorabilia home."