Grammy-nominated rapper Nipsey Hussle remembered for his music, community efforts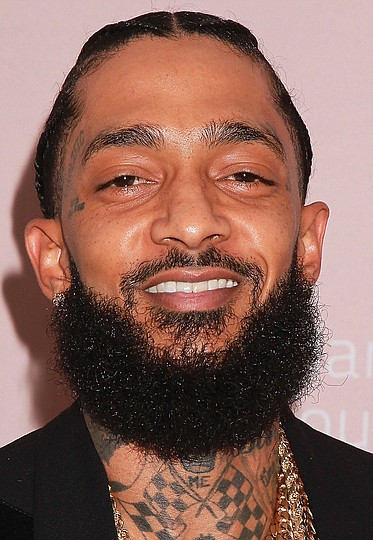 LOS ANGELES
Tributes continue to pour in for Grammy-nominated rapper Nipsey Hussle, who was fatally shot outside his clothing store in South Los Angeles on Sunday, March 31.
Mr. Hussle, 33, suffered multiple gunshot wounds and was rushed to a hospital, where he was pronounced dead.
Two other people were wounded in the shooting outside Marathon Clothing, according to law enforcement sources.
Police have arrested the suspected killer, Eric Holder, 29, of Los Angeles.
"My spirit is shaken by this," singer Rihanna wrote on Twitter.
Virginia Beach native, performer and producer Pharrell Williams tweeted that Mr. Hussle was "a positive" force who "inspired millions."
Musician Drake said he and Mr. Hussle had talked about recording a song later this year.
"You were having the best run and I was so happy watching from distance," Drake wrote in an Instagram message.
The Los Angeles Police Department said in a statement that a shooting was reported about 3:20 p.m. Sunday in the area of Slauson Avenue and Crenshaw Boulevard. Investigators said following Monday's release of the autopsy findings by the Los Angeles County coroner that Mr. Hussle died of gunshot wounds to his head and torso.
Mr. Hussle, whose real name was Ermias Asghedom, grew up in south Los Angeles and often talked about being in a street gang during his teenage years. He had since become a community organizer, according to media reports, and opened the clothing store in the impoverished Crenshaw community where he grew up as a seed for development.
Hundreds of people gathered in front of the store this week to pay their respects. A memorial of candles, flowers and paintings took shape, and some of Mr. Hussle's songs blared through speakers.
His debut studio album, "Victory Lap," was nominated for best rap album at this year's Grammy Awards.
Politicians including U.S. Sen. Kamala Harris of California, a Democratic candidate for the 2020 presidential nomination, and Los Angeles Mayor Eric Garcetti are among those who paid tribute to him for his efforts to improve the community.