Grammys not just about the music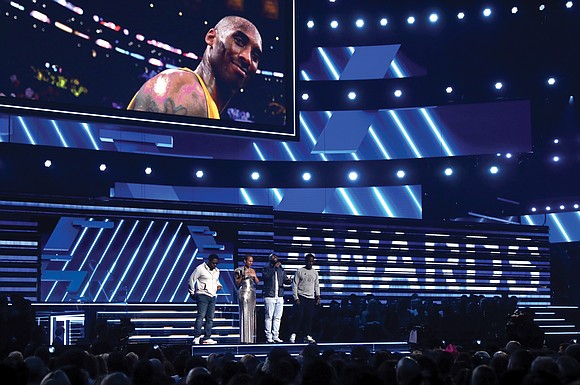 LOS ANGELES - The Grammy Awards wasn't just about the music Sunday night. The show opened with a dedication to basketball icon Kobe Bryant, who died in a helicopter accident earlier in the day and whose Los Angeles Lakers team has its home at the city's Staples Center and Grammy venue.
"We are literally standing here heartbroken in the house that Kobe Bryant built," said Grammy show host Alicia Keys. "We never imagined in a million years we'd have to start the show like this."
Ms. Keys and Boyz II Men sang a heartfelt tribute to Mr. Bryant, his daughter, Gianna, and the seven others souls lost in the crash with an a cappella rendition of "It's So Hard to Say Goodbye to Yesterday."
The awards show also ended a tumultuous week for the Recording Academy that included its ousted chief executive officer accusing the Grammy nominations process of being rigged and Sean "Diddy" Combs calling out the organization for not giving enough respect to R&B and hip-hop.
R&B star Lizzo won three of her eight nominations, while country rapper Lil Nas X took home two for his viral "Old Town Road" collaboration with country singer Billy Ray Cyrus.
Lil Nas X, 20, wearing a cowboy hat and silver lure suit, and Mr. Cyrus dazzled the house with a kitschy performance of the song, with contributions from stars ranging from K-Pop band BTS to young yodeler Mason Ramsey.
"He told the world he was gay and, overnight, he became an inspiration and a role model for hundreds of young people around the world," comedian Ellen DeGeneres said as she introduced Lil Nas X.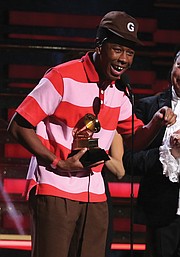 Rapper Nipsey Hussle, who was slain in March of last year, won two posthumous Grammy Awards and was remembered during a tribute medley that had audience members on their feet, dancing and in tears.
Nipsey, whose real name was Ermias Asghedom, was shot multiple times on March 31, 2019, outside his Marathon Clothing store in South Los Angeles.
On Sunday, he won Best Rap/Sung Performance for his feature in DJ Khaled's "Higher" and Best Rap Performance for "Racks in the Middle," which was released a few weeks before his death and features Roddy Ricch and Hit-Boy.
DJ Khaled and John Legend, who was also featured on "Higher," took the stage to accept the award alongside members of Nipsey's family just a few minutes after performing the song in a tribute to the 33-year-old rapper.
DJ Khaled and Mr. Legend both dedicated the award to Mr. Nipsey.
"We all love him, we all miss him. It is terrible that we had to lose him so early," Mr. Legend said. "Thank you for allowing us to use his legacy and lift it up in song tonight."
Mr. Legend, DJ Khaled and rapper Meek Mill led the tribute performance, which included Nipsey's voice in the background music video of "Higher." As plumes of fire lit up the stage, energetic backup dancers dressed in white gold-trimmed robes drew the audience to their feet.