Richmond Flying Squirrels ready for Thursday night opener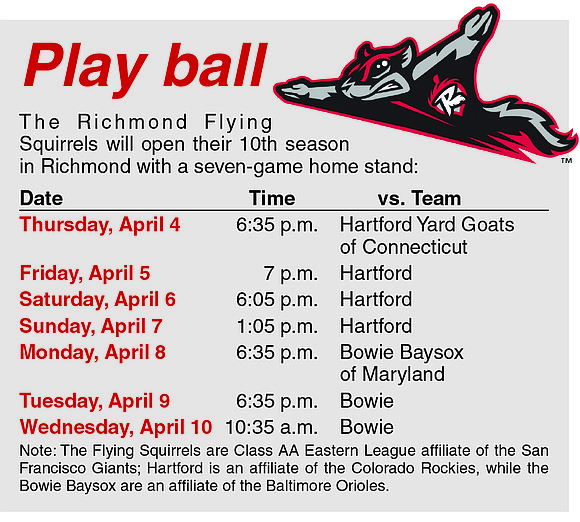 One needs to look no further than the Richmond Flying Squirrels' roster to discover baseball is a global sport.
To celebrate the franchise's 10th anniversary, players have gathered from places as close as Henrico and Hanover counties and from as far as South Africa, Taiwan, South America and the Caribbean.
"Home Boys": Squirrels team members this season include catcher Matt Winn from J.R. Tucker High School in Henrico County and Virginia Military Institute, and pitcher Connor Overton from Atlee High School in Hanover County and Old Dominion University.
Across the sea: Competing with Winn for catcher's mask and shin guards duty is Jin-De Jhang from Taiwan.
Fastballs and fast feet: Dominican relief pitcher Melvin Adon has consistenly hit 100 mph with his heater. Outfielder Johneshwy Fargas of Puerto Rico stole 48 bases in just 98 games a year ago with the San Jose Giants.
Runs in the family: Outfielder Jacob Heyward is the younger brother of Jason Heyward of the Chicago Cubs. Infielder Jonah Arenado's older brother is perennial all-star third baseman Nolan Arenado of the Colorado Rockies.
It's Miller time: Infielder Jalen Miller, a native of Atlanta, brings some pop to Arthur Ashe Boulevard. The 22-year-old former third round draft pick slugged 14 homers and 35 RBI last year at San Jose.
Old folks: While most AA division players are in their early to mid-20s, the team graybeard is 33-year-old Fernando Abad, a veteran relief pitcher from the Dominican Republic.
The deep, deep South: While players from South Carolina and even South America aren't too rare, pitcher Kieran Lovegrove is from several time zones farther — Johannesburg, South Africa.
The skipper: Returning for his second season as manager is Willie Harris from Cairo, S.C., the same hometown as baseball icon Jackie Robinson. Harris played 11 seasons in the big leagues and helped win a World Series in 2005 with the Chicago White Sox.
Spinning the turnstiles: While the Flying Squirrels finished last in the Eastern League standings (66-76) in 2018, the Squirrels were first in attendance with an average of 6,198 fans per game.
This is a tribute to nightly promotions and a family friendly atmosphere orchestrated by Todd "Parney" Parnell, the club's vice president and chief operating officer since the inception of the franchise.
Opening night will feature an appearance by former Richmond Braves slugger Ryan Klesko and postgame fireworks.
History lesson: The Flying Squirrels are the fourth minor league baseball team to play in Richmond. Previous teams were:
• Richmond Colts, 1942-1953: played at Mooers Field; affiliate of the Philadelphia A's and the New York Giants.
• Richmond Virginians, 1954 to 1964: played at Parker Field; affiliate of the New York Yankees.
• Richmond Braves: 1966 to 2008; played at Parker Field and, starting in 1985, at The Diamond; affiliate of the Atlanta Braves.