Free Press wins 13 awards in annual VPA contest
4/12/2019, 6 a.m.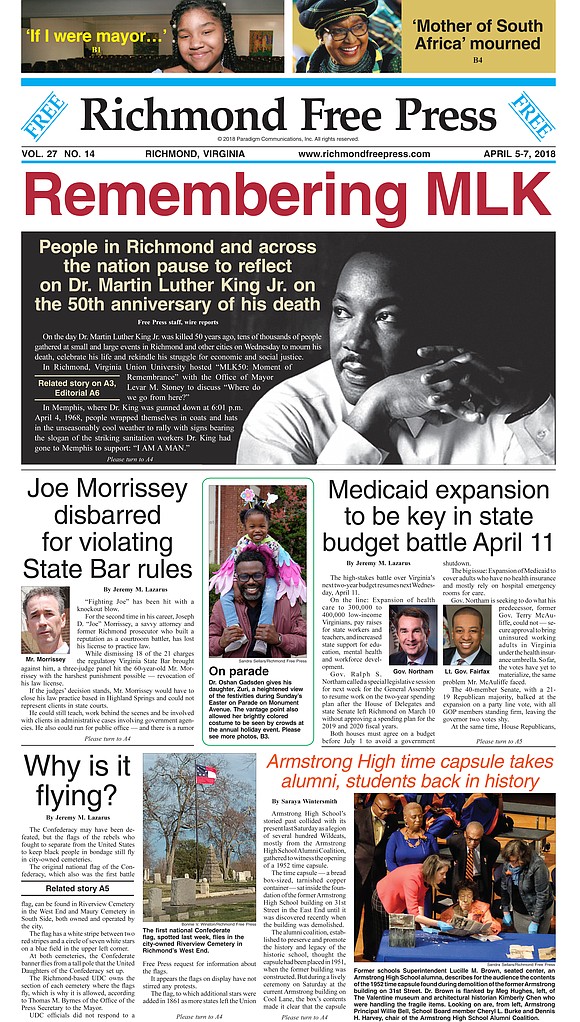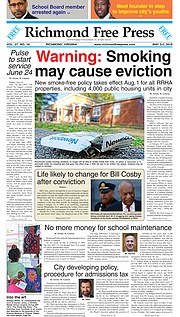 The Richmond Free Press was recognized with 13 awards, including six first-place awards, at the annual Virginia Press Association competition in writing, photography, news presentation and advertising.
The contest for work published in 2018 was judged by members of the Iowa Press Association. Winners were announced last Saturday at the VPA News & Advertising Awards Banquet in Norfolk.
Jeremy M. Lazarus, Free Press vice president for news enhancement, won first place for large, non-daily newspapers in Virginia for government writing. His winning trio of stories included a look at Mayor Levar M. Stoney's first year in office; results of a city auditor's report showing the Washington NFL team's Richmond training camp failed to live up to economic promises, putting Richmond taxpayers on the hook for millions of dollars; and City Councilman Parker Agelasto putting his seat on the council in jeopardy by moving outside of the district he represents.
On the story about Mayor Stoney, the judges wrote, "This story really captures not only the personality of the subject, but the central point of the analysis of his time in office. Well written."
Managing Editor Bonnie V. Winston and April A. Coleman, Free Press vice president for production, jointly received a first-place award for headline writing.
"Head and shoulders above the rest of the entries," the judges wrote. "Good use of short, clever headlines to grab attention. 'Smoking' headline ingenious," judges wrote about the headline "Warning: Smoking may cause eviction," on an article detailing a new smoking ban in Richmond public housing that could make violators subject to eviction.
Ms. Coleman also won a first-place award for front page presentation and design based on the submission of three front pages from 2018. The judges considered overall appearance, use of headlines, selection and use of photos and artwork and the variety and importance of news on the page.
"Well balanced, covers a lot of different stories with the information for the readers," the judges wrote.
Staff photographer Regina H. Boone received first place for breaking news photography. She captured workers cleaning red spray paint and graffiti from the statue of Confederate Gen. Robert E. Lee on Monument Avenue.
The judges wrote, "Local impact of national story. This is a dramatic photo and does a good job encapsulating a larger story in one image."
Staff photographer Sandra Sellars and Free Press freelance photographers Ava Reaves and Clement Britt won first place in the picture story or essay category for a collection of photos from the January 2018 inauguration of Gov. Ralph S. Northam, Lt. Gov. Justin E. Fairfax and Attorney General Mark R. Herring.
"So much to look at," the judges wrote. "Every image captures a moment, not just a scene. Wonderful mix of official moments and impromptu joy. I especially liked that inaugural guests and performers were shot in context, emphasizing their presence at this specific event."
And Free Press freelance photographer James Haskins won first place in the sports news photo category for his photograph of a dog going airborne over a large pool to catch a toy as hundreds of spectators watch at Riverrock 2018.
"Head and shoulders above the field," the judges wrote. "This is a great shot!"
Second place honors went to:
• Ms. Sellars for picture story or essay and general news photography; and
• Mr. Lazarus for government writing.
Third-place awards went to:
• Mr. Lazarus and Free Press writer Ronald E. Carrington for general news writing;
• Ms. Winston for editorial writing;
• Ms. Sellars for sports feature photography; and
• Ms. Coleman, Ms. Reaves and Free Press freelance writer Samantha Willis for combination picture and story.
The Chesterfield Observer won the Sweepstakes Award in the large, non-daily newspaper category, while Richmond Magazine won the 2018 Award for Journalistic Integrity and Community Service for a commemorative issue dedicated to the life of the late tennis great and humanitarian Arthur Ashe Jr., a Richmond native.