Dr. Harrison B. Wilson Jr., longtime president of NSU, dies at 94
8/2/2019, 6 a.m.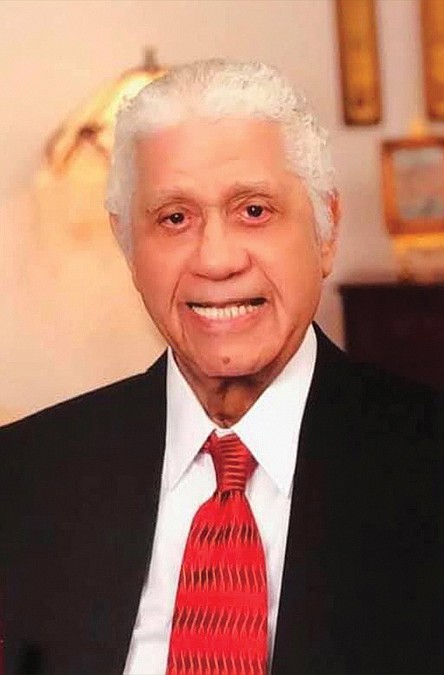 Dr. Harrison B. Wilson Jr., who served as president of Nor- folk State University for 22 years and whose grandson, Russell Wilson, is the superstar quarterback for the Seattle Seahawks, died Sunday, July 28, 2019.
He was 94.
Condolences have poured in from around the country.
"The Spartan family mourns the loss of one of its stalwart champions," current NSU President Javaune Adams-Gaston said in a statement on Monday. "He embodied the spirit and history of this great institution, and we are grateful for his many contributions. He will be deeply missed by all of us."
In a statement released Sunday afternoon, Congressman Robert C. "Bobby" Scott of Newport News wrote, "I was saddened to learn of the passing of Dr. Harrison B. Wilson. He was a renowned basketball coach, educator and long-time president of Norfolk State University."
Russell Wilson, who led the Seahawks to a Super Bowl victory in February 2014, turned to social media to announce the death of his grandfather. He posted a photo of Dr. Wilson on Instagram, with this note: "Going to miss you Grandpa. This is my Grandfather whose (sic) no longer with us. Dr. Harrison B. Wilson Jr. He was an educator, a mentor, a college basketball coach, and the second President at Norfolk State University a HBCU from 1975-1997. Love you. #BeholdTheGreenandGold."
Mr. Wilson's father, the late Richmond attorney Harrison B. Wilson III and the son of Dr. Wilson, was a standout in football and baseball at Dartmouth College. He died in 2010 from diabetes-related complications.
Dr. Wilson was born April 21, 1925, in Amsterdam, N.Y., the fifth of seven children. He served in the Navy from 1945 to 1947 before enrolling at Kentucky State University, where he earned a bachelor's degree and had a stellar athletic career in football, basketball, baseball and track.
He later earned a master's degree and a doctorate in health sciences and administration from Indiana University.
He taught at Jackson State College, now Jackson State University in Mississippi, where he was head basketball coach from 1951 to 1960 and continued working with the basketball program at the college until 1967. He was one of the most successful coaches in the school's history, with a 371-93 career record. In 17 seasons coaching the Tigers, he never had a losing season.
The Tigers also posted twin season wins with 29 wins in
1955-56 and 1963-64. The team won the Southwestern Athletic Conference championship in 1963-64.
Dr.WilsoncoachedmanyofthemosttalentedAfrican-American players in the country while at Jackson State, including Cleveland Buckner, a New York Knicks draftee in 1961; Ed Manning, a former NBA player and the father of Kansas Jayhawk great Danny Manning; and Paul Covington, who later took over as the men's basketball coach at Jackson State.
Dr. Wilson served as chair of Jackson State University's Department of Health and Physical Education from 1960 un- til 1967 and then served as chair and professor of health and physical education at Tennessee State University in Nashville from 1967 to 1970.
Dr. Wilson also served briefly as assistant to the president of Fisk University before being named NSU's president in 1975.