James River Park System now part of the Old Growth Forest Network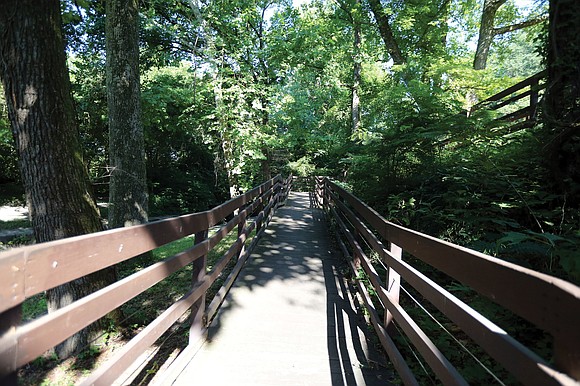 One of the Richmond region's favorite parks has become part of an exclusive club, the Old Growth Forest Network, it has been announced.
The James River Park System, which lies in the heart of Richmond and annually attracts 2 million visitors, was formally inducted into the network, signifying that its trees will always be protected and will live out their lives in this green space without ever being turned into lumber, according to Parker C. Agelasto, executive director of the Capital Region Land Conservancy and a member of Richmond City Council.
Joan Maloof, OGFN founder and director, officially inducted the park's forest at a public ceremony June 5 at the Pony Pasture Rapids Park section, 7200 Riverside Drive in South Side, Mr. Agelasto stated.
Along the East Coast, original forests essentially have been eliminated since the arrival of English, Dutch and Spanish settlers. Ms. Maloof is working with a range of partners to create new old growth forests through the use of conservation easements that prevent development of certain property so the trees age in place.
The James River Park, which straddles both sides of the river and encompasses 562 acres, is the seventh forest in Virginia inducted into the network and one of 90 in 22 states across the country, Mr. Agelasto stated.
He noted that the age of the oldest trees is not certain, but 100-year rings have been counted on a downed loblolly pine and a downed chestnut oak. The park has a wide variety of trees, such as maples, oaks, hickories, cottonwoods, sycamores, beeches, birches, black walnuts, pawpaw and tulips, he noted.
The induction marked the 10th year since then-Gov. Tim Kaine, a former Richmond mayor, signed a conservation easement on May 29, 2009, covering about half of the James River Park. The easement ensures the property can never be developed.
The easement is cooperatively held by the Virginia Department of Conservation & Recreation, Enrichmond Foundation and the Capital Region Land Conservancy.
Among the park's components are Belle Isle, Reedy Creek, Pony Pasture, Wetlands, Great Shiplock Park, Huguenot Flatwater, Manchester Climbing Wall, North Bank and Pumphouse.
Mr. Agelasto stated that the park's inclusion in the Old Growth Forest Network builds on the vision of those who started the park more than 50 years ago.
He credited creation of the park to Joe Schaefer and Jack Keith, two private citizens who acquired undeveloped property along the river and then lobbied successfully to prevent construction of a highway through it. Mr. Keith and Mr. Schaefer launched the park in 1972 with the donation of 380 acres to the city.