Happily Natural Day set for Saturday in South Side
8/30/2019, 6 a.m.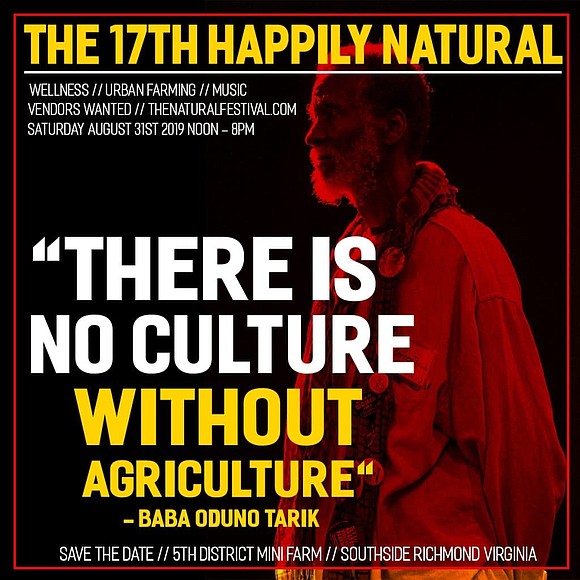 The 17th Annual Happily Natural Day returns this weekend with workshops on hemp growing, Kemetic Yoga and colorful head wraps and a celebration of breastfeeding babies, according to organizer Duron Chavis.
The festival, which seeks to promote "holistic health, cultural awareness and social change," is set for noon to 8 p.m. Saturday, Aug. 31, at the Fifth District Mini-Farm at 2208 Bainbridge St.
Art, music and activities also will be featured at the free event whose setting is a large vegetable garden that Mr. Chavis and supporters have created at the site.
The event will also cap Black Breastfeeding Week RVA that encourages natural feeding of babies as better for them and better for the health of their mothers. The celebration at the festival will include a photo shoot of women nursing their children at 6:45 p.m., according to the event's information.
Festival workshops will focus on the opportunities and challenges of growing hemp to processors creating products ranging from food, beverages and cosmetics to paper, clothing and building materials.
From 2 to 3:30 p.m, head wrap expert Netfah Amina-Afia will discuss and demonstrate the art of head wrapping. A program from 3 to 4 p.m. will allow participants to sample different styles of yoga to improve health.
Details: thenaturalfestival.com