Personality: Duron Chavis
Spotlight on Resiliency Garden project leader
5/21/2020, 6 p.m.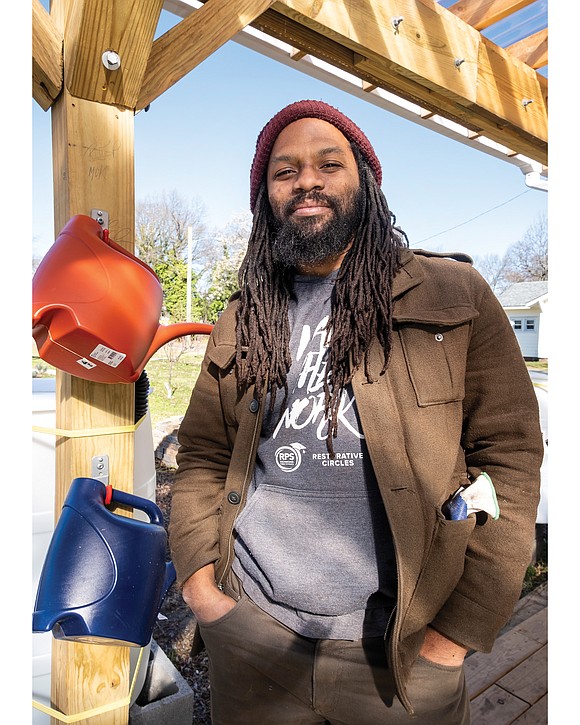 Hundreds of raised garden beds distributed throughout the region, ready to house healthy crops. Hundreds more in demand by residents in Richmond and its neighboring counties. And potentially hundreds of new urban farmers, ready to work and serve their communities at a time of great need.
The coronavirus hasn't just impacted social and economic institutions. It also has increased many inequalities that already existed for marginalized communities.
Duron Chavis, founder and director of the Happily Natural Festival, knows this well and is moving the nonprofit toward correcting one of these issues— an inability to grow, maintain and obtain healthy fruits and vegetables in food-insecure communities.
"It's really important," Mr. Chavis says. "Even before COVID-19, communities of color struggled with lack of access to healthy food, but now that issue is even more amplified."
Mr. Chavis founded Happily Natural in 2003 while he was working at the Black History Museum & Cultural Center of Virginia. It was originally and simply Happily Natural Day, a summer festival celebrating the African-American community, showcasing history and building pride in ancestry.
For more than a decade, the festival has shone a light on this history through a variety of ways, including "the promo- tion of holistic health, cultural identity and social change," according to Mr. Chavis, aided by community partners and an enthusiastic audience that stretches as far as Canada and the United Kingdom.
In the years following its creation, Happily Natural has evolved to encompass a much larger mission. Today, the nonprofit isn't just reconnecting black people to their history, but to the land itself, "through sustainable agriculture and resilient food systems."
To achieve that goal, Happily Natural is operating the Resiliency Garden project as part of the Beautiful RVA coalition. The organization delivers raised beds to the community without charge to help increase access to healthy food for communities in need throughout the region during the pandemic.
Since April 1, the group has delivered more than 100 beds, with more than 300 requests received from across the region. It's a telling sign of both the lack of options for many when it comes to healthy food, but also a deeper desire to expand skills and mitigate the stress of the current moment.
As Mr. Chavis puts it, "farming and gardening are ways to build self-sufficiency and relieve anxiety during this stressful time."
Moving forward, Happily Natural is helping build urban farms across the city in an effort to localize Richmond's food system. The organization is collaborating with the Mechanicsville-based Farm to Family, with an eye toward a plentiful, healthy summer harvest for the community.
Happily Natural also is developing a six-week boot camp for people new to growing food, as well as a 12-week training program for the city's urban farmers.
Mr. Chavis is aware of the limits of the group's ability to do this work and more, as their need for volunteers and community contributions is tempered with the knowledge that, as a black nonprofit, they see less support than similar groups. But they soldier on regardless, ready to address a clear and present need in the Richmond area.