Chavis to lead initiative at Lewis Ginter Botanical Garden
7/13/2016, 7:17 a.m.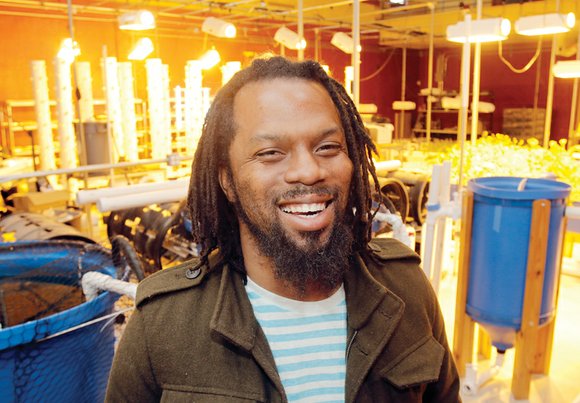 Duron Chavis is leaving Virginia State University to join Lewis Ginter Botanical Garden as its first community engagement coordinator.
At Lewis Ginter, Mr. Chavis will be responsible for outreach to diverse communities and fostering collaborative, green initiatives in urban neighborhoods.
He will assume his new position July 12.
For the past two years, Mr. Chavis has been director of VSU's Harding Street Urban Ag Center, an indoor farming incubator funded by the U.S. Department of Agriculture. He and the VSU program were featured in an article "Future of food," in the May 19-21 edition of the Free Press.
"Duron was selected from a field of over 30 applicants, and emerged as the strongest candidate with his combination of professional achievements and passion for community building through urban greening," said Shane Tippett, executive director of the botanical garden in Henrico County. "We know that Duron's natural ability to build, nurture and maintain relationships that connect people and plants to improve our community will be a great asset and help us achieve our goal of making Lewis Ginter Botanical Garden everyone's garden."
A Richmond native and VSU graduate, Mr. Chavis is known nationally for his leadership in urban agriculture and is an advocate for community-designed solutions to local challenges. He is a 2015 graduate of Hope in the Cities' Community Trustbuilding Fellowship program and the 2011 Leadership Metro Richmond class.
Mr. Chavis has served on numerous public advisory councils and task forces, and is the founder of the McDonough Community Garden. He also has served as a project coordinator for Renew Richmond's community gardens.