HBCU funding finally approved by U.S. Senate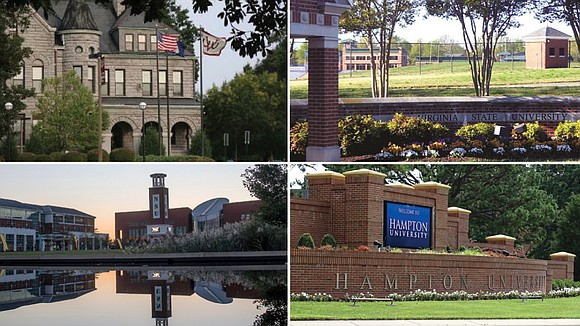 Virginia Union University and four other historically black colleges and universities have moved a step closer to regaining direct federal funding after months of contention.
U.S. Sen. Lamar Alexander, a powerful Republican from Tennessee, ended his three-month blockade on legislation to restore $255 million in funding for HBCUs and other minority-serving schools that expired at the end of September, clearing the way for passage in the U.S. Senate on Dec. 5 by voice vote.
However. the U.S. House of Representatives must accept the amended deal that the Senate approved. The House had approved a two-year extension of the funding, but must approve the Senate amendments for the bill to go to the president's desk.
Still, Virginia Sens. Tim Kaine and Mark R. Warner cheered the overwhelming approval. Both had made appeals on the Senate floor for passage.
Sen. Kaine said Friday following a speech to a business group in Downtown that he helped broker the deal that Sen. Alexander accepted. The deal that cleared the Senate Education Committee that Sen. Alexander chairs would make the $255 million for HBCUs and for Native American and Hispanic-serving schools a permanent fixture in the annual federal budget.
Five schools in Virginia — VUU, Hampton, Norfolk State and Virginia State universities and Virginia University of Lynch- burg — would collectively receive about $4.3 million a year, with the rest divided among among about 250 other colleges and universities.
As part of the deal, the Senate version includes a separate bill aimed at simplifying FAFSA, or the Free Application for Federal Student Aid, and saving an estimated $2.8 billion over 10 years to pay for the federal aid.
The bill would make it easier for the Internal Revenue Service to share information on FAFSA applicants with the federal Department of Education. That has raised privacy concerns among House members, including some who serve on the Ways and Means Committee, which must approve the Senate version before it goes to the House floor.
House critics worry that enacting the Senate version could open the door to hacking of families' data as the U.S. Department of Education uses outside contractors to receive applications.
As a result, committee members reportedly are looking for other ways to cover the federal subsidy, though the House bill to extend the program that Sen. Alexander initially rejected was fully funded. The House had done so by eliminating subsidies to the outside groups that insure some federal student loans.
Sen. Alexander, who had opposed that idea, acknowledged the House concerns about privacy after the Senate vote. He said that he has been talking with House leaders to assuage their concerns in a bid to win passage of the legislation without additional changes that would need Senate approval, too.