Lt. Ashley N. Berry remembered during service at Second Baptist in South Richmond
Jeremy M. Lazarus | 12/13/2019, 6 a.m. | Updated on 12/14/2019, 4:50 p.m.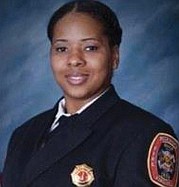 "She was the best of the best," Richmond Fire Chief Melvin Carter said.
"When she came to our office, the first thing we noticed was that she was gracious, cheerful and eager," said Capt. Earl E. Dyer, Richmond fire marshal. "She wore all those qualities without effort."
They offered their comments during the funeral for Richmond Fire Lt. Ashley Nicole Berry last Saturday at Second Baptist Church in South Richmond.
Hundreds of people, including family, fire department colleagues, City Council members, friends and well-wishers, packed the sanctuary to hear final tributes to the nine-year Department of Fire and Emergency Services veteran.
The 33-year-old mother of three was fatally shot as she left a Thanksgiving dinner in Hopewell at the family home of her boyfriend, Carlos Samuels Sr., also a Richmond firefighter.
Authorities said Lt. Berry was hit by a stray bullet as she protected her 5-year-old son from a barrage of shots a gunman unleashed at a home next door to the house Lt. Berry was leaving. Initially treated at a Hopewell hospital, she died early Friday, Nov. 29, 2019, at VCU Medical Center in Richmond, authorities said.
The Rev. Russell Brown delivered the eulogy at the service that lasted nearly four hours.
This is the second loss in nearly 18 months for the Berry family, which is still mourning the loss of Lt. Berry's sister, Kendra B. Covington, who died in July 2018.
A graduate of L.C. Bird High School in Chesterfield County where she grew up, Lt. Berry joined the Fire Department in 2011. She served at Fire Station 14 on Hawthorne Avenue in North Side and Fire Station 17 on Semmes Avenue in South Side, and was assigned to Station 21 on Jefferson Davis Highway in South Side after being promoted to lieutenant.
In October, she completed the Fire Marshal Academy and was assigned to Capt. Dyer's office.
Lt. Berry also served as recording secretary of the International Association of Firefighters Local 995. She was a member of the Fire Department Safety Officers Association and a former member of the International Association of Black Professional Fire Fighters, Brothers and Sisters Combined.
Lt.. Berry also was a co-founder of the Women's Empowerment Social Club, Ladies of Diversity and a member of the Mission From The Heart outreach organization.
She recently joined City Church in Richmond after leaving Good Hopewell Baptist Church where she sang in the choir, wrote and directed church plays and hosted fashion shows.
Survivors include her daughter, Ya'Mya Braxton; two sons, Daniel Braxton and Carlos Samuels Jr.; her parents, the Rev. Waverly and Karen Berry; a sister, Deona B. Gaither; and her grandmother, Marie Burston.