Trump 'betrayed the nation'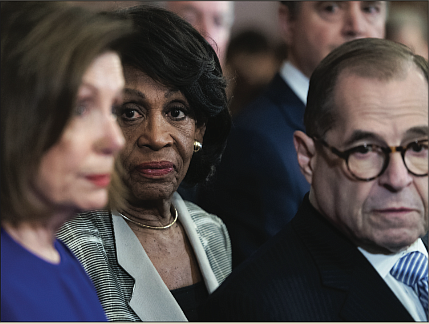 WASHINGTON - House Democrats announced two articles of impeachment against President Donald Trump on Tuesday, declaring he "be- trayed the nation" with his actions toward Ukraine as they pushed toward historic proceedings that are certain to help define his presidency and shape the 2020 election.
The specific charges aimed at removing the 45th president of the United States: Abuse of power and obstruction of Congress. House Speaker Nancy Pelosi, flanked by the chairmen of impeachment inquiry committees at the U.S. Capitol, said they were upholding their solemn oath to defend the U.S. Constitution. President Trump responded angrily on Twitter: "WITCH HUNT!"
Voting is expected in a matter of days by the House Judiciary Committee, which began deliberations on Wednesday, and by Christmas in the full U.S. House of Representatives. The charges, if approved, would then be sent to the U.S. Senate, where the Republican majority would be unlikely to convict President Trump.
In the formal articles announced Tuesday, the Democrats said President Trump enlisted a foreign power in "corrupting" the U.S. election process and endangered national security by asking Ukraine to investigate his political rivals, including Democrat Joe Biden, while withholding U.S. military aid as leverage. That benefited Russia over the United States as America's ally fought Russian aggression, the Democrats said.
President Trump then obstructed Congress by ordering current and former officials to defy House subpoenas for testimony and by blocking access to documents, the charges state.
By his conduct, President Trump "demonstrated he will remain a threat to national security and the Constitution if allowed to remain in office, " the nine-page impeachment resolution states.
"If we did not hold him accountable, he would continue to undermine our election," Speaker Pelosi said later at a forum sponsored by Politico. "Nothing less is at stake than the central point of our democracy — a free and fair election.''