Personality: John H. Brown III
Spotlight on founder of 5C's Development Program
12/20/2019, 6 a.m.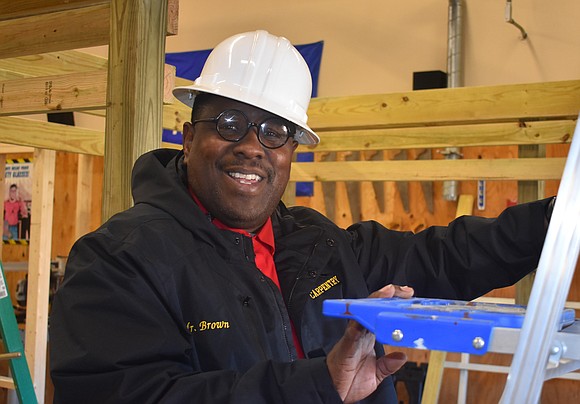 "We wanted to give back to the community in memory of my son."
Following the murder of Jomond A. Lightfoot in 2009, John H. Brown III sought to take his 25 years of experience in the building trade industry and 15 years of teaching carpentry and share it with "at-risk youths and adults who have a strong desire to change their lives," he says. His hope: They would then take their new skills into the trade industry and improve the Metro Richmond area.
The next year in February 2010, Mr. Brown established the 5C's Development Program with his parents.
Now, nine years later, the minority-owned nonprofit has grown to be officially recognized as a training school and gathered a number of public and private partners, including the City of Richmond's Office of Community Wealth Building, the National Center for Construction Education and Research and the Metropolitan Business League, while continuing its mission of empowering and bolstering Richmond's trade community.
The 5C's program encompasses a wide range of vocational training courses in the areas of carpentry, construction, certification, contracting and counseling, from building scaffolds and installing roofs to workplace readiness, OSHA compliance and construction management. Program fees range from $150 to $5,000.
As a founder, Mr. Brown also serves 5C's as an instructor, a mentor, and primary funder, supplying all of the money for the nonprofit's operations. This would seem to be an overwhelming amount of responsibility for a company with only two employees, three board members and considerable ambitions, but Mr. Brown is undaunted, saying, "It is time for me to give back to the community."
5C's goal of reducing poverty in the city and reinvigorating its workforce is one that has become more important and needed in recent years, according to Mr. Brown, as the infrastructure in the United States continues to deteriorate from age and weather. Mr. Brown sees a lack of trade workers as a key factor in this growing issue, caused in part by a national shift toward other careers, along with a lack of vocational training support.
"Now they've got themselves in a bind because now we have no skilled workers," the 57- year-old Mr. Brown says, "and now America's infrastructure is breaking down every day."
As a result, he sees the work needed to inform and ready future trade workers as filling in a gap he sees as necessary to maintain Richmond, the state and the country at large.
It likely won't be easy, as 5C's work continues to be complicated by issues with transportation for those enrolled, connecting with contractors and participants and the need for donations, among other obstacles. But Mr. Brown remains steadfast in his mission and hopes that Richmond residents step up to the challenge and ensure that their city is supported by a varied, enthusiastic and skilled workforce.
Mr. Brown says, "Your community needs your hands."
Meet a man building a legacy of trade skills and knowledge, and this week's Personality, John H. Brown III:
Date and place of birth: June 26 in Richmond.