Sky's the limit' for RVA Street Singers
George Copeland Jr. | 12/27/2019, 6 a.m.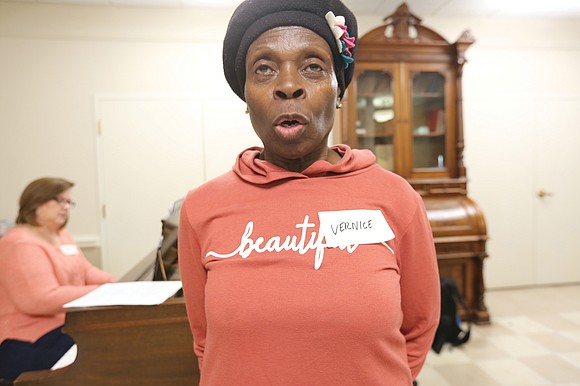 The main chapel of Centenary United Methodist Church was filled with the sounds of fellowship on a recent Friday as an audience of about 50 guests joined in the musical holiday cheer provided by the RVA Street Singers.
The "Unity, Happiness and Light" concert was the first of its kind for the group, and the latest showing for the community choir made up largely of Richmond residents affected by homelessness or working through addiction recovery.
"What we are experiencing today in this sanctuary, and what I have experienced in the choir rehearsals and my time with these wonderful people, have helped me to satisfy my heart's desire," said the Rev. Miles M. Siler, pastor of Smokey Row Baptist Church in Staunton, as he addressed the crowd during the program.
Rev. Siler joined choir members, Virginia Commonwealth University students and volunteers from a variety of churches as part of the concert.
"It is a joy and and a privilege for me to be here to share with this wonderful group of people," Rev. Siler said.
The RVA Street Singers is a project created in January 2018 by the late Rebecca Tyree, who was an assistant professor of choral music education at VCU, and Cameron Carter, an associate professor at VCU's School of Social Work. It was started as a way to reach out to and provide a safe, welcoming organization for the city's most marginalized groups and as an interdisciplinary elective for VCU's social work and music students.
The group largely operates at Second Presbyterian Church in Downtown, its venue for rehearsals and recruitment. The church, like Centenary United Methodist, also in Downtown, regularly serves lunch to the city's homeless.
"Here, we're all just one group of people," said choir member Angela Thompson, who has been a part of RVA Street Singers from the beginning and now serves as one of the choir's ambassadors, among other volunteer work.
She cites her time with RVA Street Singers as expanding her spiritual and social perspective. She now works with other homeless outreach groups while still making the time to contribute to the choir's efforts.
Ms. Thompson said all are able "to learn from one another and enjoy each other.
"Our voices are not the same," she said, "but we are all equals."
Because of renovations at Second Presbyterian Church, rehearsals recently have moved to Centenary United Methodist Church. The change seemingly hasn't slowed down the choir at all. A recent rehearsal before the Dec. 13 concert was full of warmth with an easy rapport among choir members.
"Inclusion and community building — that was always our tagline," explained Ms. Carter.
She said RVA Street Singers maintains a core membership and methodology that allows it to be flexible and accommodating to those who need to step away for a period, and to those who join out of the blue.
"We've had new people show up the day of a concert, and they get a shirt and they come on board."
Thomas Perry is both a singer and a cajon box drummer in the choir.