Enrichmond Foundation now owns East End Cemetery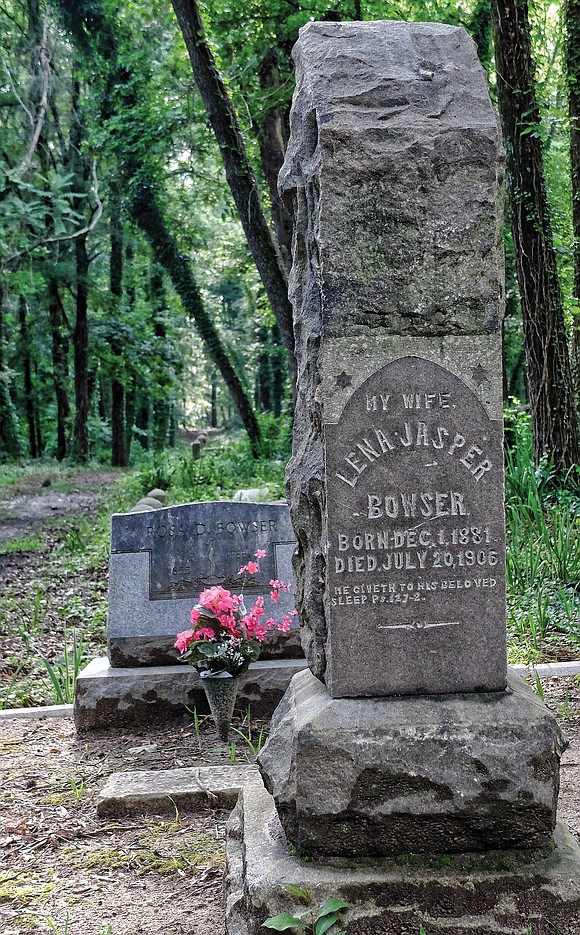 Twenty months after buying historic Evergreen Cemetery with state assistance, a city-created charity has taken ownership of a second neighboring African-American burial ground, East End Cemetery.
Richmond Circuit Court Judge Gregory L. Rupe last week awarded the Enrichmond Foundation ownership of the abandoned 16-acre property without imposing any of the conditions sought by a volunteer group that has been engaged for six years in restoring the cemetery.

The decision had the support of the Office of the Virginia Attorney General, which represented the defunct East End Burial Association Trustees that long operated the cemetery that dates to the 1890s.
But it dismayed Brian Palmer, a photographer-journalist who leads the Friends of East End Cemetery, a volunteer restoration group that retiree John Shuck started and previously led.
Mr. Palmer noted that members of the Friends of East End Cemetery have done all the work, but now face being moved aside by Enrichmond despite past pledges of inclusion from the state and the Virginia Outdoors Foundation.

He said the VOF, which put up $400,000 and supported Enrichmond's acquisition of both cemeteries without any role for the Friends group, "blew the opportunity" to create a genuine partnership with relatives of those buried in East End and his group.

Both Evergreen and East End rank as significant private burial grounds for thousands of people, including such famed Richmonders as pioneering businesswoman Maggie L. Walker and crusading editor and banker John Mitchell Jr.
In a letter to the court before the hearing, the Friends of East End reminded the court that Enrichmond had done nothing for the cemetery even as the Friends group marshaled volunteers, held hundreds of workdays and created a database of those interred in the cemetery.
"Our overriding concern has always been the protection, restoration and preservation of East End Cemetery," the group wrote in urging the court to require VOF and Enrichmond to disclose the arrangements and payments for the cemetery acquisition, to set up an equitable partnership that would allow the Friends group "to continue our work unhindered" and provide for "a substantive, decision-making role — both for the Friends and for families."
Mr. Palmer noted that Enrichmond has sidelined Evergreen volunteers and created an advisory team that lacks authority and can be dissolved at Enrichmond's whim.
Viola O. Baskerville, a former Richmond City Council and House of Delegates member and former state secretary of administration, believes Mr. Palmer is too skeptical of Enrichmond.
She stated in a Facebook post that Enrichmond's Evergreen Cemetery Restoration Team, of which she and her husband are members, is heavily engaged in helping to guide restoration planning, even if it is advisory.
Ms. Baskerville also noted that descendents of the dead, as well as African-American organizations like the Black History Museum and Cultural Center of Virginia and the Elegba Folklore Society, are members. She urged Mr. Palmer and others to join in the cooperative creation of a restoration plan that she said "will take years and millions of dollars" to carry out.
Meanwhile, Enrichmond also is working to acquire from the city two smaller African-American cemeteries in the same area that the city currently owns but fails to maintain. One called Oakwood Colored was operated when black people were barred from being buried in other city-owned cemeteries. The other was the site of public burials for impoverished African-Americans who had no money for funeral expenses.