A boulevard named Arthur Ashe
City Council approves street to honor Richmond legend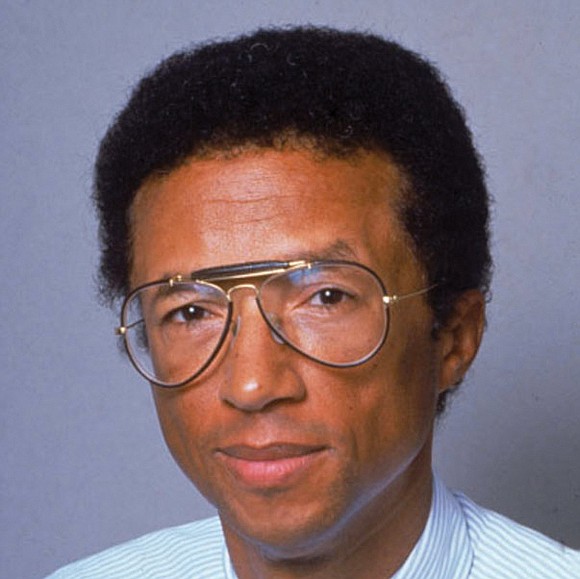 From now on, it will be Arthur Ashe Boulevard.
As it turns out, the third time was the charm for the effort to rename the Boulevard for Richmond-born tennis great and humanitarian Arthur Robert Ashe Jr.
During a turbulent Black History Month that has put Virginia in the spotlight on racial issues, the Richmond City Council Monday night overwhelmingly approved renaming the street — an honor that the governing body had rejected twice before in the 26 years since Mr. Ashe's death on Feb. 6, 1993.
Despite months of controversy, the Arthur Ashe Boulevard proposal that Mayor Levar M. Stoney co-patroned sailed through on an 8-0 vote, with the abstention of 8th District Councilwoman Reva M. Trammell, who objected to using taxpayer dollars to pay for new signs.
At least four members of the council, including sponsor 2nd District Councilwoman Kim B. Gray, came into the meeting committed to voting for the proposal. Passage was assured when 4th District Councilwoman Kristen N. Larson, who is part of a tennis-playing family, broke her public silence and announced she would support the change.
In many ways, the vote represented the council's effort to promote racial reconciliation and healing in the year Virginia will mark the arrival of the first Africans 400 years ago.
Ms. Gray, who spearheaded the new renaming effort, was overjoyed with the nearly unanimous support from colleagues after a bumpy few months of controversy. Some Boulevard residents and business operators decried the change, saying they wanted to keep the plain Boulevard name that dates back more than a century.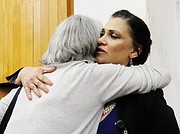 "Today, we sent a positive and inspirational message to our Commonwealth, our nation and the international community that the Richmond of today is making great strides to remove the shackles of much of its history and stands ready to be a great international city that is welcoming to all," Ms. Gray said after the vote.
Contractor David O. Harris Jr., a nephew of Mr. Ashe, was near tears after the vote. Last year, he had set the proposal in motion in urging Ms. Gray to make a third attempt to change the street's name.
He said Mr. Ashe's relatives only asked that the city give Mr. Ashe due recognition. After the vote, he said that he's thrilled that Richmond has taken the opportunity to more fully recognize a person "who is still influencing us today."
Mr. Ashe won international recognition as the first black man to reach the pinnacle of the sport through his three Grand Slam victories at the U.S. Open, Wimbledon and the Australian Open. He would use his position to highlight forgotten African-American athletes, fight oppression in South Africa and Haiti, and become an AIDS activist and take other stands.
Once-segregated Richmond, which Mr. Ashe was forced to leave to pursue his sport, previously named the public school system's basketball and convocation center that sits on the Boulevard after Mr. Ashe and also put up a statue to him in 1996 on Monument Avenue that is laden with monuments to Confederates.
But Ms. Gray said that was insufficient, and urged her colleagues to rename the 2.6-mile Boulevard that connects the Ashe Center to the north with the Byrd Park tennis courts to the south. Mr. Ashe as a youth was barred from playing on the all-white Byrd Park courts, but later in 1968 led a U.S. Davis Cup team to victory on the site.
In addition to the mayor and the Boulevard's two major museums, the renaming drew strong support from a host of people near and far, including Wilbur Jenkins, who played professional tennis with Mr. Ashe, and at least two of the civic associations that represent portions of the street.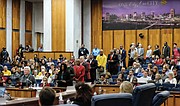 At least 40 people lined up to speak in favor of the name change at Monday night's council meeting, including Keenan A. Caldwell Sr., who represented Mr. Ashe's fraternity, Kappa Alpha Psi.
"He carried Richmond with him on his hard road to glory," Mr. Caldwell said, referencing the title of Mr. Ashe's book on African-American athletes.

Mr. Ashe was a "humanitarian, a professional and someone who believed in doing the right thing," said Jolynn Johnson Smith, granddaughter of Lynchburg physician and tennis instructor Dr. Robert W. "Whirlwind" Johnson, who coached and nurtured Mr. Ashe's talent and launched the national youth tennis program.
"At this time in our history when we still are honoring Confederate soldiers on Monument Avenue, I would implore you to do the right thing and give Arthur Ashe his due," Ms. Smith said.
At least 12 people, mostly residents and business operators who supported retaining the old name, decried the effort as overriding community wishes.
"This proposal has not been properly vetted by the community, let alone property owners," Boulevard resident Bill Payne told council members. "We believe council representatives should inform and work with citizens before imposing ideas."
But City Council dashed the hopes of Mr. Payne and other residents who urged that the measure be sent to a still-to-be-organized city history commission that is being set up to recommend ways to possibly eliminate symbols of Richmond's Confederate past

The governing body also did not accept a suggestion to pause and rename for Mr. Ashe the major city park that now bears the name of Richmond's notoriously racist and sexist founder, William Byrd II.
Ninth District Councilman Michael J. Jones noted that "more needs to be done" in addition to the street renaming to honor Mr. Ashe.
Council President Cynthia I. Newbille, 7th District; Council President Chris A. Hilbert, 3rd District; and Councilwoman Ellen F. Robertson, 6th District, formed the initial core of support for Ms. Gray's proposal.
Two members of the council, Andreas D. Addison, 1st District, and Parker C. Agelasto, 5th District, joined the majority in voting for the proposal, but not before criticizing the process.
Mr. Addison said that he mostly heard complaints that residents on the Boulevard were not fully consulted.
Mr. Agelasto noted the council 15 years ago established a renaming procedure for streets that requires 51 percent of property owners to request the change and for council to receive full details of the costs, neither of which was done.
"There is doing right, and there is also doing it the right way," Mr. Agelasto said. "And I think we failed on the right way here."
Ms. Trammell objected to spending on street signs when so many other city needs are not being met. The city expects to spend $30,000 to create and post 38 new Arthur Ashe Boulevard signs at intersections in the coming months and might face other signage costs. Ms. Gray said some private contributions could be offered to defray the city's costs.
Bobby Vincent Jr., Richmond public works director, refused to tell the council whether the city would have to pick up part or all of the projected $200,000 to $300,000 cost of replacing interstate and Downtown Expressway signs, saying only that the Ashe proposal had the support of the mayor and that his department would follow the mayor's lead.
His statement contradicted M.S. Khara, city engineer and deputy director of public works, who told a council committee the cost of the highway signs likely would be picked up by the state and the expressway's owner, the Richmond Metropolitan Transportation Authority.