Panthers pounce all over Trojans
Fred Jeter | 2/15/2019, 6:01 a.m.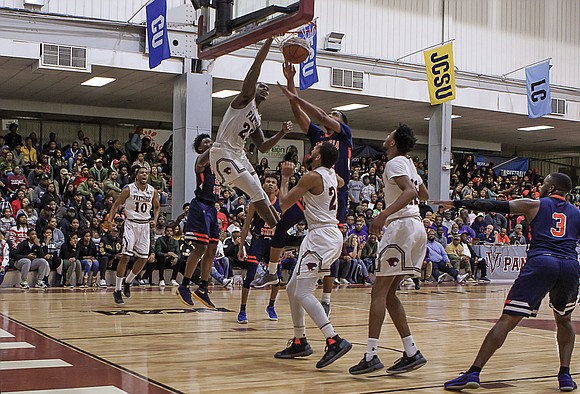 VUU men's team downs VSU 75-67
The rafters of Virginia Union University's historic Barco-Stevens Hall are adorned with retired jerseys.
William Jenkins played last Saturday like he wants his maroon and steel No. 22 to join them there some day.
Even VUU hoops "royalty," including Charles Oakley, Terry Davis and Ben Wallace, would be challenged to outshine Jenkins' dismantling of Virginia State in the second edition of the "Battle of I-95."
Before a raucous gathering, the high-hopping, long-stemmed 6-foot-7 junior from Baltimore piled up 23 points and 14 rebounds in the Panthers' 75-67 victory.
VSU, now 20-4 overall and 12-1 in the CIAA, came to Richmond with a 16-game winning streak and No. 22 NCAA Division II ranking.
VUU improves to 15-9, 10-3, with its fourth win in a row and its sixth triumph in the last seven outings.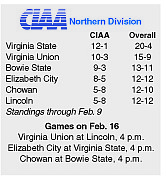 "February is when people love to see us play, and a win like this really helps," Jenkins said. "I like our odds and direction we're going in right now."
In the first VUU-VSU meeting this season won by VSU, 88-73, Jenkins played more like a lamb, collecting just seven points and no rebounds.
In the rematch, he pounced like a panther, dominating inside action at both ends of the floor.
"I let my guys down last time," Jenkins said. "So this time I took it upon myself to put the team on my back."
But this is no time to play taps for the Trojans, who remain the heavy favorite for the CIAA Northern Division crown.
The matchup marked just the second time in three years VSU has come to Barco-Stevens with a long winning streak only to be foiled by VUU and its powerful home court advantage.
VSU or any visiting team is definitely at a disadvantage on the Lombardy Street campus. "Barco" was packed, sardine style, with a roaring crowd and pep band that could be heard all the way on Broad Street.
It would be an understatement to say it was standing room only. With some degree of seriousness, it was said that VSU subs were apprehensive about entering the game, fearful their precious front row seat would be taken before they returned.
Jenkins wasn't alone as a VUU hero.
Dynamic guard Terrell Leach had 21 points (15 in the second half), freshman Demarius Pitts added 13 and Eric Bowles dished nine assists.
Also deserving "Player of Game" consideration was the fired up, partisan crowd that couldn't help but get into the heads of the visitors.
In stark contrast to the first VUU-VSU game this season, this time the Panthers shot 53 percent to the Trojans' 43 percent and outrebounded them, 38-28.
Jenkins has been on a mission since last year's CIAA Tournament when he helped VUU to its first title since 2006.
His above-the-rim style of play continued into last year's NCAA Tournament and now into his junior season.
An obvious All-CIAA candidate, he averages 15.1 points and 8.3 rebounds while hitting 52 percent from the field. He also leads with 27 blocked shots.