Case closed on Richmond 34
Criminal records from the Feb. 22, 1960, arrests of 34 VUU students protesting racial segregation at a Downtown department store will be expunged Friday, 59 years later
By Reginald Stuart | 2/22/2019, 6 a.m.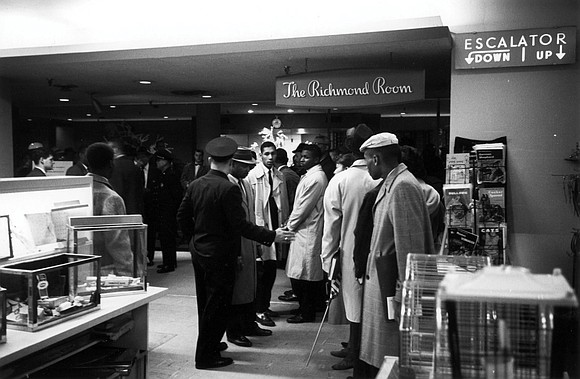 Dr. Franklin and Ms. Johnson, now Elizabeth Johnson Rice, an educator for more than 30 years and founder of the BPOS Foundation, Be Part of the Solution, Ms. Jamison and a small entourage of city officials will be heading to Chief Judge Joi Jeter Taylor's courtroom Friday in Richmond Circuit Court for a special hearing to have their records expunged.
Before that, the Richmond 34 will be honored in the Virginia General Assembly with a joint resolution presented by Richmond Delegate Delores L. McQuinn in the House chamber, and they will talk with current VUU students during a panel discussion at 11 a.m. Friday at the Claude G. Perkins Living and Learning Center at VUU. The panel discussion is open to the public.
"It's going to be a celebration and inspiration," Ms. Jamison said.
Nearly half a dozen of the Richmond 34 have died, Ms. Johnson Rice said. The university and others have lost touch with several others.
Still, five of the 34, Dr. Franklin and Mrs. Johnson Rice among them, are to receive the General Assembly resolution, letters and a city proclamation declaring Feb. 22 the Richmond 34 Day to salute their efforts to peacefully tear down Richmond's racial barriers from public eating places.
Acting Richmond Police Chief William C. Smith is to be present at the expungement hearing, along with Richmond Sheriff Antionette Irving and Richmond Commonwealth's Attorney Michael Herring. Richmond lawyer Devika E. Davis is representing the former students in court.
Ms. Jamison said the Richmond Branch NAACP will continue to work with the Richmond 34 members or their survivors who are not able to participate on Friday.
"You have to go do x, y and z to get this done," said Ms. Jamison, "You have to attach the original paper work and be fingerprinted," she said.
Still, Ms. Jamison said, the exercise has been worth it.
"Everybody has been very supportive of the group," she said.
Dr. Franklin said the discovery of his misdemeanor arrest record and absence of any notation of its dismissal causes him some concern.
"Any one of us could have lost an opportunity because we had a record," he said, adding he understands that some employers simply remove candidates from consideration when a background check notes the applicant has been arrested.
Now, that will all be in the past. Case closed.