Jaaber looking to spring into Division I competition, boosting the family legacy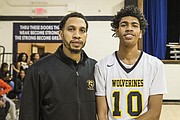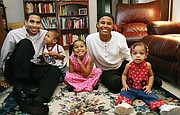 Of Chesterfield County's 11 comprehensive public high schools, Carver College and Career Academy is by far the newest — it's now in its fourth year — and the smallest with 254 students.
Many longtime residents don't even know where it's located or anything about it.
Nonetheless, Mikael Jaaber, who answers to "Mick," is dribbling overtime to lift Carver Academy and Wolverines basketball more into the public eye.
The whippet-quick, ultra-lean, 6-foot, 135-pound Jaaber has averaged 20 points while leading Carver Academy to an 18-5 record and the Tidewater District championship.
The Wolverines were the top seed in the Class 1, Region B playoffs opening this week. The team's goal is no less than capturing the state Class 1 title next month at the Virginia Commonwealth University Siegel Center.
Jaaber is a third-year starting guard under no-nonsense Coach Reggie Simon, a former Hopewell High School standout whose day job is as a Hopewell probation officer.
Jaaber has both the name and the game for success. His father is Luqman Jaaber, one of the top 10 players ever to come out of Richmond. As a senior at Richmond's George Wythe High School, Luqman Jaaber was named Times-Dispatch Player of the Year. He went on to lead Virginia Union University to the 2005 NCAA Division II championship and eventually became the Panthers' head coach.
Mick's uncle, Ibrahim Jaaber, is among the all-time greats at the University of Pennsylvania.
Luqman Jaaber now serves as Carver Academy's junior varsity coach — the JV team went 17-1 this season — and as a varsity assistant under Coach Simon. He is also a popular clinician around the area.
Jaaber relishes his father's legendary status, but insists they are not so much alike in style.
"Dad was pass-first guard. I'm more of a shooting guard, a scorer. I look for my shot more than him," the younger Jaaber explained.
Here's how Luqman Jaaber assesses his son: "He still has so much to learn. But he's growing at a steady pace. He's finally growing wings."
The father and son have spent endless hours in the offseason drilling at the Ben Wallace Gym on North Side.
The efforts have paid off. As a more confident senior, Jaaber has flourished. In Carver Academy's final regular season game, a 71-53 win over King & Queen Central High School, Jaaber had 18 points, five steals and three assists, a stat line his dad would be proud of.
Jaaber played his freshman season on the Chesterfield County's Manchester High School junior varsity team before transferring to Carver Academy, which is located off state Route 10 between L.C. Bird and Thomas Dale high schools.
Jaaber likely will spend the next school year at a prep school. That will give him more time to add some weight and strength and to sharpen his skills.
Eventually Jaaber hopes to play NCAA Division I college basketball. He's quick to say Syracuse University is his preferred college team and former Syracuse star Carmelo Anthony is his all-time favorite player — besides his dad, of course.