No holiday for justice as protesters hold March of Reckoning
By Caitlin Morris and Rosemarie O'Connor/Capital News Service | 2/22/2019, 6 a.m.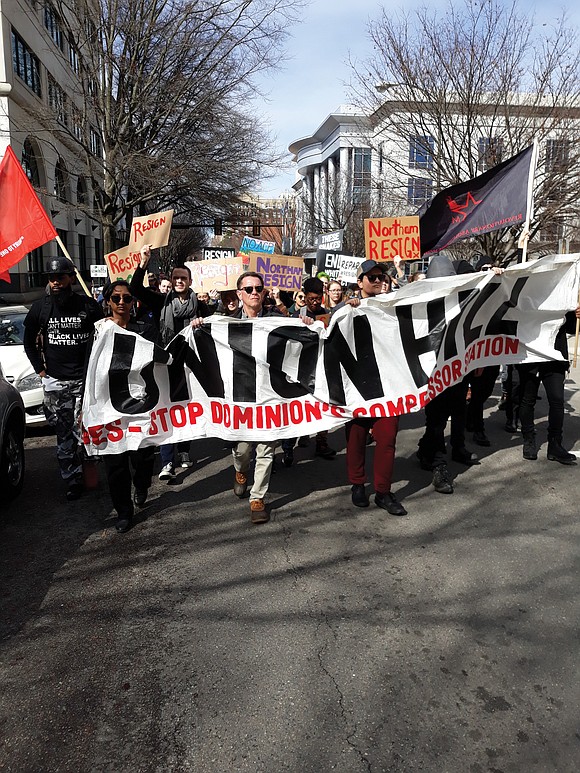 Banks and schools may have been closed Monday, but around 50 political activists descended on Bank Street and went to work protesting against Gov. Ralph S. Northam and other elected officials.
The "March of Reckoning" began in Monroe Park with friction and ended in a showdown at the State Capitol.
Protesters called for the resignations of Gov. Ralph S. Northam, Lt. Gov. Justin E. Fairfax and Attorney General Mark R. Herring, all Democrats, and Republican state Sen. Tommy Norment of James City County, the Senate majority leader.
Gov. Northam came under fire earlier this month after a photo surfaced of his 1984 medical school yearbook page that featured a man in blackface and another in a KKK hood and robe. Gov. Northam apologized at first, without saying which person in the photo was him. He then later denied that he was in the photo, but admitted that he wore blackface to compete as Michael Jackson in a dance contest in Texas later in 1984.
Mr. Herring was among the many officials who called for Gov. Northam's resignation. But days later, Mr. Herring revealed he had worn blackface to portray a rapper at a college party in 1980.
The revelations led many across the state to dig through college yearbooks, peering into the pasts of numerous government officials. It was found that Sen. Norment was an editor of Virginia Military Institute's yearbook when it published numerous racist images and language.
As the blackface scandal erupted, two women accused Lt. Gov. Fairfax of sexual assault in 2000 and 2004, while he was in college and law school. The lieutenant governor has denied the allegations, saying that both sexual encounters were consensual.
"Virginia's on fire and the whole world is watching," Rebecca Keel of Justice RVA said during Monday's protest.
Demonstrators including Travis Williams reminded the crowd that accusations of racism against the state's top officials do not stem from just the blackface confessions, but include such policies and actions as support for the natural gas pipeline and compressor station that Dominion Energy is building in Union Hill, a historically African-American community in Buckingham County. Mr. Williams said Gov. Northam was a "major enabler" of the project.
"We don't need to just think about the projection of ridicule and bigotry onto people and communities," Mr. Williams said. "We also need to think about … negation, erasure, dehumanization, devaluing. That's what's been going on in Union Hill."
Police had a visible presence in Monroe Park, where the rally started. A Monroe Park Conservatory volunteer stepped in and asked protesters to stop blocking bike paths.
Tension continued to grow as protesters marched through the Virginia Commonwealth University campus and down Franklin Street toward the Capitol.
Marchers carried banners and signs while chanting, "No blackface, no pipeline, Northam must resign." At times, the crowd moved against the flow of traffic and shut down multiple streets as they crossed.
The group paused at the Dominion Energy building in Downtown and voiced disdain for the company's political influence on Gov. Northam and state lawmakers. According to the Virginia Public Access Project, Gov. Northam has received almost $200,000 in campaign contributions from the energy giant.