No holiday for justice as protesters hold March of Reckoning
By Caitlin Morris and Rosemarie O'Connor/Capital News Service | 2/22/2019, 6 a.m.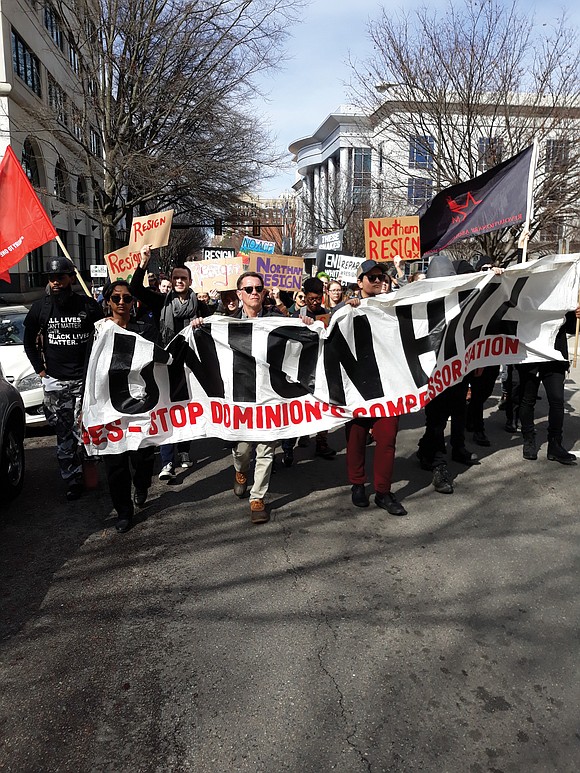 "Not only are governments supporting businesses that are completely harmful to the environment and exacerbating climate change, but it's also the case of environmental racism," said Vincent Mangano, a VCU freshman. "The people who are seeing these effects are primarily poor people of color."
Chants grew louder as the group reached Capitol Square, where Capitol Police closed and locked gates to the grounds. Protesters and members of the media were locked out, although protesters tried multiple gates before entering an hour-long standoff with police. After laying down signs and ending the chanting, protesters tried to enter the grounds as "citizens" but were still denied access. The Capitol is open to visitors seven days a week.
"We're being denied access just as people," said Ms. Keel. "We're not in protest, we've made that abundantly clear. Actually, all the protesters have left. We're being denied our right to come and enjoy the Capitol grounds. I'm feeling extremely disappointed in the Capitol Police."
Police said they couldn't allow anyone to enter without a valid permit from the Department of General Services, which provides management for Capitol Square.                      
During the standoff, one protester slid under the gate and onto the grounds and laid down on her back, facing the officers above her.
Some demonstrators said they received different answers from Capitol Police officers regarding entering the grounds, leading to confusion.
March organizers eventually dispersed after being denied entry.
"We're going to sue you tomorrow," Ms. Keel told Capitol Police as she left.